Last year Jo & I set up an advent blog to countdown to Christmas based on the idea of 23 Things, and we are back again but this time with a quiz as well as some extra help from Trudi.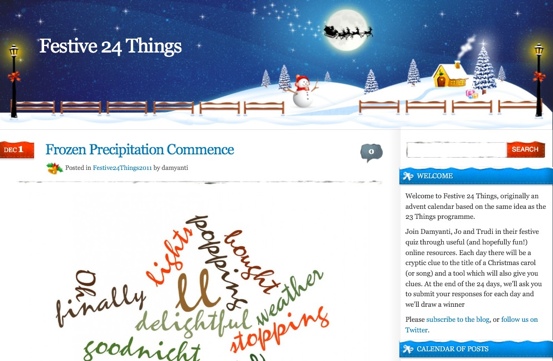 As well as following our Festive24things I have come across a few others, these should keep me entertained on the way to work
Oxford University Computing Services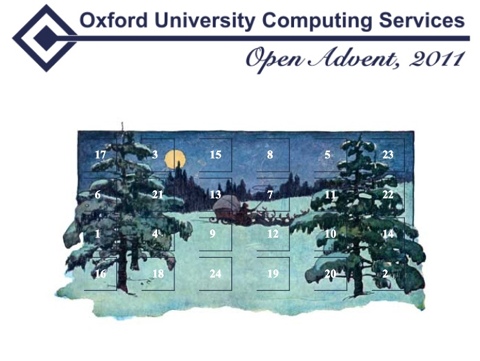 Zappar Advent Calendar (Augment Reality)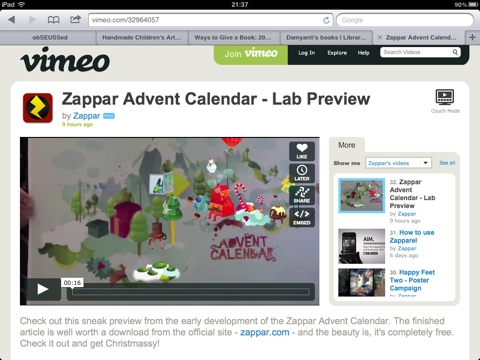 Helpful Technology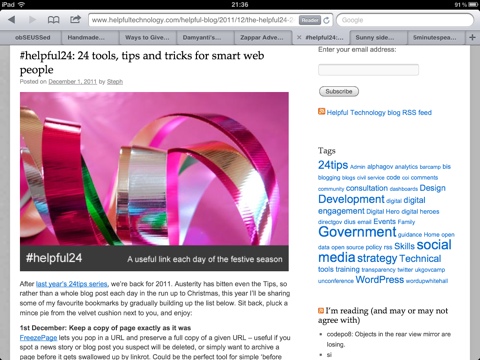 Clara Vulliamy - arty crafty things to do for children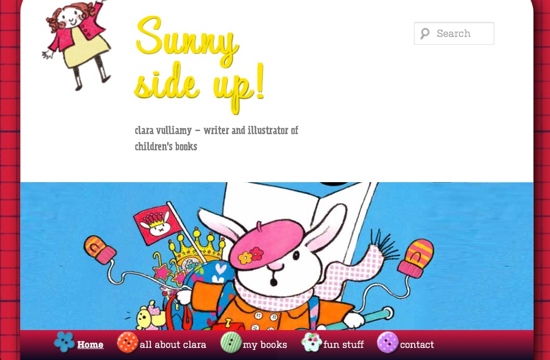 5minutespeaces's blog – 24 days, 24 books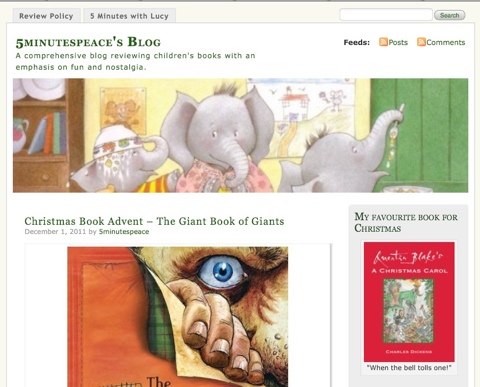 The one however I imagine I will spend most time on over Xmas will be playing Angry Birds Season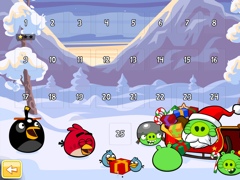 I have previously 
blogged
about the value of public libraries to me and my family. A few months ago we set up a new blog listing the books we borrow including their cost,
Overdue Books
. One of the reasons behind setting up this blog was to show the true cost of the books we borrow. A common argument against the need for public libraries is that books are cheap, why borrow when you can just buy. While some books are relatively cheap and while there is lots of material free online to read this doesn't mean its the type of material I want to read or introduce my young children too. I am also in the fortunate postion to be able to afford to buy some books and have online access, however this is not the case for everyone.
Overdue Books is keeping a count of all the books we borrow from the library including costs where possible, a blog post 
'counting the cost'
has technical details on how this has been done. In under 2 years if we had bought all the books we borrowed from the library we would have spent an estimated
£3400
, this works out roughly as a book habit of
£150 a month
, definately not something we could afford.
Our young son is the biggest user of the library in terms of number of books he borrow. I think having such a wealth and variety of books is a huge benefit in terms of his development, use of imagination, his language skills etc. Not something you can add a value to.
He is able to choose from, what I recognise, as a good and appropiate collection of material far superior to what you would find in many bookshops. While online bookstores have a much wider range of stock he is too young to successfully browse and select items also there would be the cost of purchase, which as I previoulsy mentioned would be too prohibitive .
I have been interested to see my son's use of the library and acknowledge that it is much more than just borrowing books. He has learned a sense of community and sharing, knowing he needs to return the books so other people can have a chance to borrow them as well. The freedom to borrow any material without any consequences such as cost, means he can be adventurous in his reading, if he doesn't like it he can just return it. The library also provides a safe environment where he meets other children and parents as well as the opportunity to take part in some of the activities run by the library.
Create your own video slideshow at animoto.com.
The borough where we live, Warwickshire is currently running a 12 week consultation  from March 18  until June 9 as the council is planning budget cuts of approx 27% over the next 3 years to the library and information service. These cuts include the closure of a number of libraries. From completing the consultation document I was left a little unclear as to what impact the consultation will have considering it seems like the decision to close the libraries has already been made. The tone of the document made me think the purpose of the consultation was mainly to see if anyone else wanted to take over the running of these libraries. Personally I have concerns about community run libraries in terms of their sustainabilty to in maintaing standards.
It is really disheartening to see that many local authorities across the UK are looking to close libraries as part of their cost cutting measures,for more information on what is happening to public libraries please check out 
Voices for the Library
, which also provides great advice on how you can help the campaign for saving libraries.
We recently had a new addition to the family and is already a member of our public library, I do hope for the sake of future generations we do not lose something as valuable as our public libraries as without them it would be a poorer society.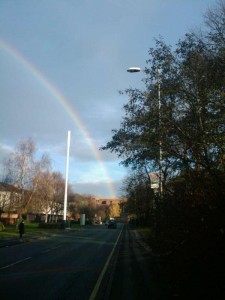 I was invited to give a talk on Thursday 25th November, at the UKSG one day conference, Usercentric: new strategies for scholarly communication. I was very flattered to be asked and it was a great opportunity. Although on the day I was very nervouse and rattled through my talk at break neck speed it was a really good experience and I met some really interesting folk. So what did I talk about, well my slides don't give the full picture so thought a blog post would be better, slightly amended so a lot less wordy.
The conclusion I drew was that we need to communicate and engage with our stakeholders, publishers and users,  much more in order to get a better picture and thereby provide more effective services & show real value for money from our investments.  (save reading the whole post)
The aim of my talk was to look at some of the challenges that I saw facing HE libraries, particlulary from an operational point of view and then look to some potential solutions.  A key challenge is the current economic climate, its uncertainty and also that proposed rised in students fees. This rise in fees I think leads directly to a greater focus on student satisfaction which in turn leads to the rising challenge of managing student expectation/satisfaction.
The findings from the annual National Student Satisfaction survey have been key drivers to investigating why the library is failing certain cohorts of students and implementing action plans.
What I have also noticed is a trend towards more student engagement in terms of help improve issue and resolve problems. For example ebook subscription models allowing access to a greater coverage and purchasing based on demand, ie number of downloads, thereby directly involving users in collection management.  I also mentioned the Student Academic Partnership scheme run by Birmingham City University (which has just won the Times Higher Award for supporting students) where students worked directly with departments. We had a student working with the library to help expolit our rare books collection, which helped provide a great focus and one outcome was a flickr site of some images from the collection.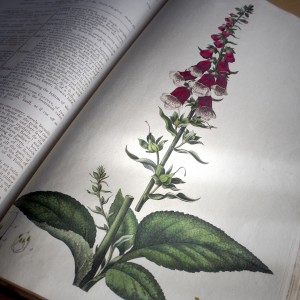 Another challenge I talked about was the strategic aim of making more of our resources available online and some of the issues this raises. Getting value for money with our resources is key. With regards to our ebook collection, while coverage has expanded and collections are growing there is still some resistance of use, owing to poor usability of platforms, limited ability to share content with peers etc. From a collection point of view there were still titles being published online many months after the print edition, so I was really pleased to hear that Palgrave Macmillan were getting to the point of releasing print and online nearly simultaneously (via @bookstothesky) I am also interested in seeing how subscription models would deal with ebook readers, it was dispiriting to hear of the Publisher Association to limit downloading of ebooks to the physical library and limiting to one user at a time, as this really takes away the many advantages and reasons why we would want to invest in ebooks, especially at a time when we must get the best value for our money.
I talked about some of the challenges that arose as we reviewed our serials collection with the aim of moving more titles online to benfit from widening access and availabilty, however we still faced some instances of titles requiring seperate user name and password, on campus access only etc.
As our collections move more online it is leading to a much greater reliance on 3rd party provision which in turn bring about issues of access and usability as well as more complex levels of management & administration. We have to contend with frequent interface changes as publishers are keen to integrate and introduce new features, however sometimes the timing is problematic, this year at least 3 publishers changed thier interface just at the start of term leading to an unfamiliartiy with with the services as students are being introduced to it. We are constantly supporting students who struggle with navigating different interfaces and encountering different issues when access resources on and then off campus. I highlighted how access was a key stumbling block for our students via a word cloud of a months email enquiries regarding e-resources. While appreciating the need to provide access to content via the correct subscription it would be helpful if there was a greater consistency across the various resources and publishers.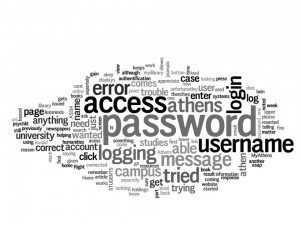 Another key development is the increase in collaborations, I talked about a number of examples at the university of working with business's, FE colleges, overseas etc. Operationally the challenge was how to provide access to content where licenses allow. Our experience of trying to negotiate seperate licenses for a few resources for a specific collaboration  showed it was very resource intensive and not meeting student expectation. Clearly renegotiating licenses at each occasion, especially when in some cases the collaborations only effect a handful of students, is not the most effective way to proceed.
As collaboration increase as does the need to suppot an increasing diverse range of staff and students alongside with a change in culture, an expectation of 'always on' access to whatever you need whenever you need.
My experience of using online services, while genearally positive I find when there are problems I am often left with only an FAQ or discussion forum to help resolve my problem which is not always effective. While we provide 24/7 access to our online resources, staff and students outside of core staffed hours, are  left with the option of sending in an email or refering to the information we provide online.
We have also seen an increase in demand for access not only to resources but also the physical building, a recent article in Times Higher quotes a quarter of HE libraries provide some form of 24/7 opening hours. This again raises the issue of how to support this level of increased access, however the provision of easy to use tools such as self service to borrow & return items could help provide one method of ensuring acess to core resource and allows staff & students to exploit these services more effectively.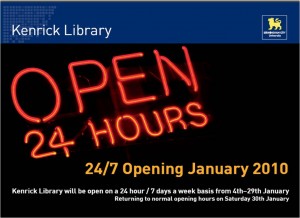 Having raised some challenges, the proposed solutions I look at was the need to market libraries more effectively in gathering different types of evidence to show the value and impact the library service can provide. I used examples of the great work done by public library campaings, including Voices for the Library in highlighting what impact libraries have had on people, the use of twitter by Warwick University library in showing what staff and students value about the library and the findings by Huddersfield library on the pattern between library use and end qualification.
I wanted to highlight what a wealth of data was available and if exploited effectively could be really insightful and helpful. I also wanted to hightlight that in engaging with our students allows us more opportunities of getting a better understanding of what our students want and also benefit from their experience and ideas.
In a climate of reduced resources I think its important that we continue to make the most efficient use of our services and explore the potential of working together more, de-duplicatign work efforts, investigating shared services. An example of a shared service I am looking forward to seeing develop and see what opportunites are provided to both sectors is the Worcester Library and History Centre, a shared public and academic library. I think for collaborations to work effectively communication is key in ensuring all stakeholders have had the opportunity to input ideas and practices.
I also belive its important to continue to embrace and exploit new technology in libraries although we do need to ensure solutions are implement correctly and managed effeciently. One of the challenges I raised earlier was a growth in online resources, books, journals etc and a solution to the problems of navigation, access etc could be resource discovery or discovery to delivery products such as Summon, Ebsco Discovery, Primo etc. These products provide a single place to search and as the data is  centrally indexed its provides quick results.  I do however believer there is an issue of content and while it seems more and more publishers are allowing these services to index their content there are still some gaps, making it difficult for libraries who need to support a diverse range and get value for money.  As someone in the audience pointed out, those not intergrated in these services will see usage drop and this will make them vunerable to cancellation.
RFID is also providing opportunities for libraries to improve and enhance services, allowing staff and students to do more for themselves and thereby freeing up resources which could help support other aims. The successful exploitation of new technology however does lead to development of new skills or a move in focus for areas within the library.
In conclusion, while I think we are facing challening times I also believe librares are well equipped to adapt and provide the flexible services that staff and students require. We do however need to ensure we keep on engaging with our users, our publishers, suppliers, vendors etc in order that we can work effectively together and be realistic in the aims we wish to achieve.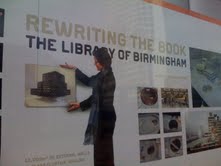 I attended a debate last night run jointly by the Birmingham Salon and CILIP West Midlands about 'What Libraries are for'. It was an interesting evening and I really enjoyed hearing peoples views on libraries, whether they should be a quiet sanctuary, hired space for communities, running vegetable contests, space to inspire learning etc.
It also got me thinking about what public libraries mean to me and in particular it's the aspect of social inclusion that really appeals.
During the debate there were numerous mentions of ebooks and ebook readers & their impact on the library. Personally I am not sure how much of a driver this is to re-invent the library, while these are available they are still not accessible to everyone unlike a public library. I do use my phone for reading but that hasn't replaced all my print books and I don't imagine it will do for some time. Someone raised the point of 'are libraries just a warehouse of books or a space to inspire learning'. As the book industry evolves and new technologies arise I think it offers libraries more opportunities to evolve services and continue to provide access to information.
Another  key point that was raised during the debate was the about the library being a service not a building. This made me wonder whether success is still being measured through footfall of the physical space as libraries continue widen access further and deliver services out to communities as well as providing the information to your desktop.
From a personal point of view I have always been a keen user of public libraries, they have & continue to provide me with information, resources, the space etc. As a child libraries gave me the opportunity to indulge in my love of reading which in turn led me to aspire to learn more, become educated, go to university, find a profession. Libraries helped me level the playing field providing me with the same opportunities as others.
Looking back I have been regularly using public libraries at least once a month over the last 20 years and really appreciate the chance to discover new authors, new recipes to try, indulge in my aspiration to be creative through numerous self help and guide books.  I have enjoyed seeing collections evolve, introduction of multi-media, e-resources, PCs, integration of local services etc. In many cases some have been more successful than others but I have always appreciated the efforts to keep the marvellous public service alive in times of clear under investment and resource.
I now have a little boy who we've taken to the library since he was a week old. While we are fortunate to be able to provide him with a collection of books at home, we could never match what is available in the library. Its great to see his evolving use of the library, from crawling to the box to throw books out to beginning to look through and choose himself and now even tentatively foray into the non-fiction. He loves having the choice to try things out, see if its interests him find out about what he likes and dislikes.
A key word that continues to keep coming back to me with public libraries is the opportunities they provide to help people fill their potential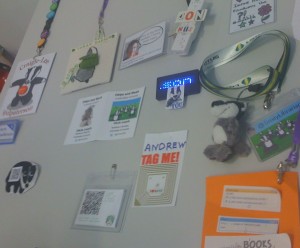 I was fortunate enought to attend another exciting, challenging and inspiring mashed library event  Chips and Mash at University of Huddersfield . One of the main topics of the day was RFID. Having recently been involved in implementing self service at one of our libraries, I really appreciated the opportunity to see RFID from a different perspective. Two talks I enjoyed were Andrew Wilson from Blink and Julian Cheal from UKOLN.
Andrew described RFID as technology for telling a story and described some of the projects he has been involved with, including a snakes & ladders game where people could play an online game of snakes & ladders by touching physical RFID readers around the building and thereby encouraging more circulation throughout the building. It was fascinating seeing use of RFID aside from simply issuing and returning library items.
Julian started his talk by confessing to having tagged his own personal book collection and showed how it was possible to send targetted messages to people via their smart phones as their entrance into the building is registered. Taking the interaction with a user away from a self service kiosk to a method of their choice provides much more flexibitliy and  highlights the extent of this type of technology.
Both Andrew and Julian inspired me to think about RFID outside the library context, which is what I needed having recently been distracted by the difficulties in finding an effective solution to tagging multimedia stock, just dont ask.
All the talks during the day were very interesting which as always diverted my attention from actually sitting down and trying to develop any of the ideas whizzing round my mind. It was good to have an update on the Jerome project run at University of Lincoln.  Lincoln are working on improving access to resources, improving search speed,  utilsing the data more effectively to provide a better search experience. Matt from Talis sped through their work on JUICE which is also working to enhance the search experience in enriching the information found on library catalogues. There seems a real need to provide relevant appropiate information speedily to users  alongside a desire to augment the information provided. I think its interesting to see how as the information libraries provide access to becomes larger, richer and complex the methods of discovery however need to become simpler and faster.
It was an enjoyable day with the advantage of many badger related paraphanalia for distraction, I recomend Laura's Dark Archive for a great summary of the day and an explanation of how 'badgers are the official mascot for mash up events'
Over 30 ideas were generated throughout the day which hopefully will be added to those on the mashed library wiki, all in all an inspiring day and many thanks to the organisers and speakers.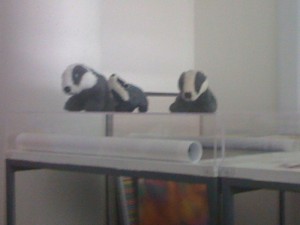 As I have been looking into rare books I have began to wonder about the reader space. I think it would be good if both the physical and electronic copies could be explored together.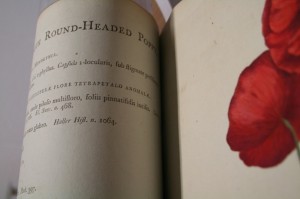 for example
a digital wall allowing you to have a collection of images in front of you with the physical ones in your hands to compare, over lay etc.
a  touch screen desk which once you lay the physical item onto it,  digital images are also loaded onto to it, links to articles, comments etc.
software and hardware allowing users to maniplate images and text from the digitised version
I have very  limited experience of reader spaces within libraries with rare books collections so am interested to hear more about the type of facilites that are available and if there is any successful examples of utilising technology to enhance the physical items within a collection.
I have been fortunate to be involved in a project called 'Reframing the past' which is funded by the Student Academic Partnership scheme at BCU, a scheme providing funds to allow students to work on projects with faculties and services and thereby providing a sense of comunity between the university & the student body
'Reframing the past' is investigation into exploiting potential of our rare book collection, housed at Gosta Green library. The project is looking at raising the profile of the collection within the university and also the potential monetization of some  images.
Before meeting with the student I had a look at some of the items in the collection and decided to see if any of these had already been digitised. I used a number of sources to find out what was available and I quickly learned how disparate the collections were. COPAC was very useful in findingwho else held print copies. In some cases COPAC indicated where a digital copy was held, if available in large databases such as ECCO and EEBO although this wasn't consistent. In many cases part of the book was digitised, perhaps for an exhibition, images to sell etc.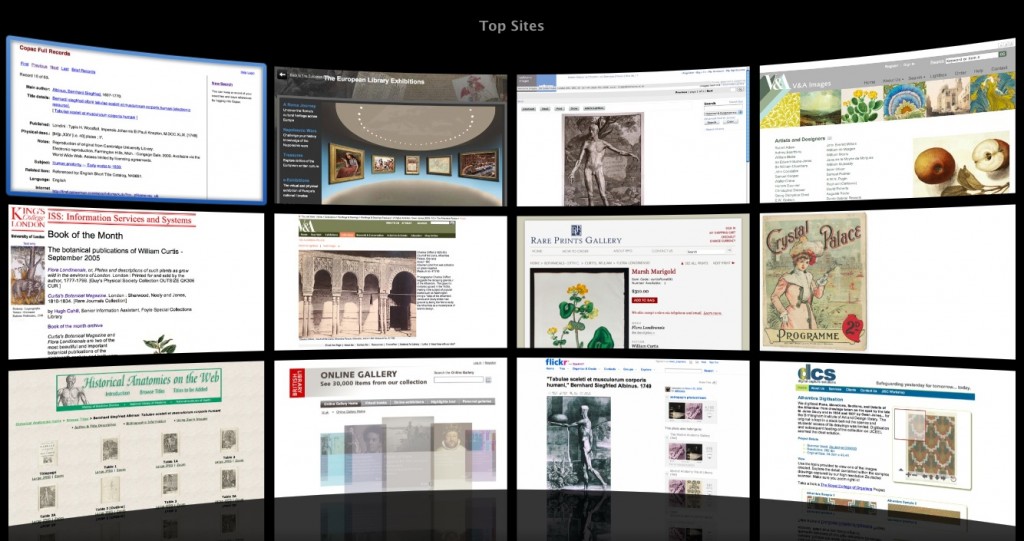 For example,  'Tabulae sceleti et musculorum corporis humani / Bernardi Siegfried Albini' published by  Lugduni Batavorum (Leiden) : Prostant apud Joannem & Hermannum Verbeek, 1747
Print copies are held in number of UK libraries, such as University of Birmingham, Kings College London.
A digitised copy is avaialbe to subscribers of Eighteenth Century Collection Online (ECCO)
Some of the books images are availabe at the Wellcome Library
Some of the books images are available from the National Library of Medicine, US
Some images from the books are on flickr
This made me think about the potential of bringing this information all together to give a more thourough record/history of the title. Would the concept of Linked Data be a solution to these mulitple sources?
I am also interested in the reason behind multiple sources for the same images and whether there needs to be a record of versioning. The scanned quality of the version in ECCO was not as superior as some of the sites with selected images.
Our reasons to scan some of the images is driven by our project and therefore specifically chosen from an artistic point of view. I am now looking forward to seeing what these images will inspire.
I have been in my new post, eLibrary Manager for nearly a year now and thought it would be good to take brief look back.
I am really enjoying having this opportunity to focus on electronic services within the library and a few key areas of interest are;
Opening up data – there is definate recognition in terms of how much more we can do in exploiting the data we collect. The MOSAIC project has clearly shown the value to be gained from the data libraries hold. LMS suppliers are also showing an interest in exploiting library data,  recomender services such as ExLibris's BX uses data from its customers alonside other information. I think the value added to this information is key.
Mashing data – Middlemash was a definate highlight to the year as a great opportunity to meet lots of talented people as well as  inspiration for new services & developments. I could see mash ups allowing us to provide some quick low cost effective solutions. I am hoping to build on middlemash and perhaps organise a local mashette.
Discoverability – with the volume of  information available a key challenge is improving the search experience. Me and my team have been investigating a number of resource discovery products currently on the market and have blogged our progress to date.  There has been  rapid development in these products with provision of some great features. The limitations however are also becoming apparent and a concern of mine is content coverage
Ebooks and ebook readers – the findings of the  JISC national e-books observaroty project came out last year and for many it seems ebooks are the way forward, including BCU. There has also been wide spread coverage of the readers and their ease of use. The announcement of the iPad provided more opportunity to showcase differences in an online reading experience with the potential of added multi media, e.g this demo of Penguin's upcoming books for the iPad. 
I'm still however not sure how we tie the ebook reader with ebooks in HE, what pricing models and subscription services will vendors provide?
Digital collections – I felt, from the conferences I attended last year, focus was on  discoverability of digital collections and gaining an understanding how they are being used. Preservation of digital collection is also important, while projects such as Galaxy Zoo and the Great War Archive highlighted the value of crowd sourcing.  BCU have a large digital collection so it has been interesting to find out more about developments in this area.
Web 2.0 – The opportunity to build networks and join communities has been of great value, espeically in my new role in gaining more of an understanding of some of the issues and priorities facing libraries. Embedding them into my work practice and encouraging their use within the library are areas I really want to develop.
These are only a few of the areas that have been interesting me and I am looking forward to what the next year brings, I suspect plenty more challenges.
I thought I would join in the blog meme having seen a few folk on twitter @joeyanne, @sarahgb
& @WoodsieGirl take part
Do you snack while you read? If so, favourite reading snack?
Not usually as I do most my reading on the train commute to work, but if I do get the chance its generally crisps.
Do you tend to mark your books as you read, or does the idea of writing in books horrify you?
When I was studying I used to write in my books but only in pencil and only in my own copy, never a library copy. I remember when young enjoying reading my older sister's copy of Romeo & Juliet covered in her scrawl which I loved to try and decipher, I thought it added character. Nowadays I might write in the inside cover of a book if it's a present.
How do you keep your place while reading a book? Bookmark? Dog-ears? Laying the book flat open?
I generally use a scrap of paper or old rail ticket as a bookmark but never dog-ears. If I can't find a bookmark I try and remember the page number, although that rarely ever works as I always forget and spend ages skimming through trying to remember where I last left it.
Fiction, Non-fiction or both?
It tends be both owing to reading more work related stuff and I having a keen interest in cookery books, but generally I read more fiction.
Hard copy or audiobooks?
Hard copy, although have started to read ebooks on my iphone – found it really useful when staying in a room without a bedside light and a sleeping baby. As for audio books only when in the car, we had a great trip to Scotland one year listening to Northern Lights  and often staying in the car having arrived at our destination so we carry on listening to the story
Are you a person who tends to read to the end of chapters, or are you able to put a book down at any point?
I prefer to stop at the end of the chapter but it doesn't bother me too much if I have to put it down at any point.
If you come across an unfamiliar work, do you stop to look it up right away?
No and the type of books I read means this doesn't really happen very often!
What are you currently reading?
Am reading 'The Peacock Emporium' by Jojo Moyes as I went to the library last week and got a stash of light reads for my commute. I am also reading 'Sea of Poppies' by Amitav Ghosh.
What is the last book you bought?
Designer Doodles from Amazon
Are you the type of person that only reads one book at a time or can you read more than one at a time?
I generally like to have a few books on the go so I can read whatever suits my mood
Do you have a favourite time of day and/or place to read?
I used to enjoy reading in bed but nowadays with a little boy to look after I don't get the chance, so I tend to do most my reading on the train to and from work.
Do you prefer series books or stand alone books?
I like series books especially having started reading more teen fiction.
Is there a specific book or author that you find yourself recommending over and over?
I have recommended the 'Time Travellers Wife' to a lot of people and the Jasper Fforde series. If there is a book I have really enjoyed they tend to get bought as presents for friends and family.
How do you organise your books? (By genre, title, authors last name etc)?
We are renting at the moment and haven't unpacked our books, the few we have unpacked however are not organised at all. Generally the fiction is organised in alphabetical order by authors last name and the non fiction by genre.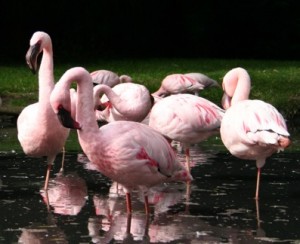 I very recently set up a twitter account for the library at Birmingham City University and have been thinking about what I am going to be tweeting about.
My first thought was as a means to market services and facilities, such as training events, new resources, paying fines online etc and also to share news, such as changes to opening hours, stock moves etc.
Secondly I have been thinking about ways in which to use twitter to engage with students and staff. It was interesting to see the techniques companies, such as Marks & Spencers, use to keep customers engaged and following them such as providing advance notice of sales, 'Deal of the day' #DOTD, competitions and give aways etc.
I am therefore keen to investigate ways in which the library twitter account would be worthwhile to students and thereby keep them following us as well as a channel to provide feedback, make suggestions etc.
I think that usage statistics for online resources could be a good source of information in providing timely tweets, for example recommendations on popular databases. I am hoping to compare usage statistics over a number of years for patterns and use this to promote appropriate database or alternatives.
Another thought is to use Twitter to alert followers to e-books where there is a spike in usage and thereby using twitter as a recommender service, highlighting texts to students that they may not yet have come across.
I also think there may be some potential in looking at search logs, if there are patterns of topic searching we could use twitter to provide further suggestions of keywords to search alongside search tips and alternative resources.
As well as providing useful information via twitter to gather more followers there is also the question about voice and personality. Should we use twitter to show an alternative side to the library such as the back room areas of the library or viewpoints from varying levels of library staff. Personally I have found that I enjoy following COPAC on twitter because of their topical search suggestions which reminds me of the value of libraries and the collections they hold.
I hope that the BCUlibrary twitter account will provide valuable information, personality and rapport for its followers.