Engaging library twitter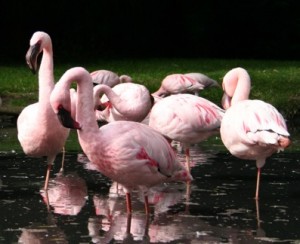 I very recently set up a twitter account for the library at Birmingham City University and have been thinking about what I am going to be tweeting about.
My first thought was as a means to market services and facilities, such as training events, new resources, paying fines online etc and also to share news, such as changes to opening hours, stock moves etc.
Secondly I have been thinking about ways in which to use twitter to engage with students and staff. It was interesting to see the techniques companies, such as Marks & Spencers, use to keep customers engaged and following them such as providing advance notice of sales, 'Deal of the day' #DOTD, competitions and give aways etc.
I am therefore keen to investigate ways in which the library twitter account would be worthwhile to students and thereby keep them following us as well as a channel to provide feedback, make suggestions etc.
I think that usage statistics for online resources could be a good source of information in providing timely tweets, for example recommendations on popular databases. I am hoping to compare usage statistics over a number of years for patterns and use this to promote appropriate database or alternatives.
Another thought is to use Twitter to alert followers to e-books where there is a spike in usage and thereby using twitter as a recommender service, highlighting texts to students that they may not yet have come across.
I also think there may be some potential in looking at search logs, if there are patterns of topic searching we could use twitter to provide further suggestions of keywords to search alongside search tips and alternative resources.
As well as providing useful information via twitter to gather more followers there is also the question about voice and personality. Should we use twitter to show an alternative side to the library such as the back room areas of the library or viewpoints from varying levels of library staff. Personally I have found that I enjoy following COPAC on twitter because of their topical search suggestions which reminds me of the value of libraries and the collections they hold.
I hope that the BCUlibrary twitter account will provide valuable information, personality and rapport for its followers.