Chips and Mash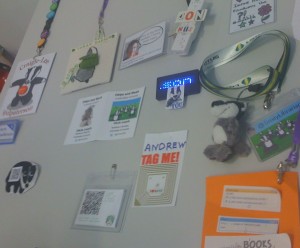 I was fortunate enought to attend another exciting, challenging and inspiring mashed library event  Chips and Mash at University of Huddersfield . One of the main topics of the day was RFID. Having recently been involved in implementing self service at one of our libraries, I really appreciated the opportunity to see RFID from a different perspective. Two talks I enjoyed were Andrew Wilson from Blink and Julian Cheal from UKOLN.
Andrew described RFID as technology for telling a story and described some of the projects he has been involved with, including a snakes & ladders game where people could play an online game of snakes & ladders by touching physical RFID readers around the building and thereby encouraging more circulation throughout the building. It was fascinating seeing use of RFID aside from simply issuing and returning library items.
Julian started his talk by confessing to having tagged his own personal book collection and showed how it was possible to send targetted messages to people via their smart phones as their entrance into the building is registered. Taking the interaction with a user away from a self service kiosk to a method of their choice provides much more flexibitliy and  highlights the extent of this type of technology.
Both Andrew and Julian inspired me to think about RFID outside the library context, which is what I needed having recently been distracted by the difficulties in finding an effective solution to tagging multimedia stock, just dont ask.
All the talks during the day were very interesting which as always diverted my attention from actually sitting down and trying to develop any of the ideas whizzing round my mind. It was good to have an update on the Jerome project run at University of Lincoln.  Lincoln are working on improving access to resources, improving search speed,  utilsing the data more effectively to provide a better search experience. Matt from Talis sped through their work on JUICE which is also working to enhance the search experience in enriching the information found on library catalogues. There seems a real need to provide relevant appropiate information speedily to users  alongside a desire to augment the information provided. I think its interesting to see how as the information libraries provide access to becomes larger, richer and complex the methods of discovery however need to become simpler and faster.
It was an enjoyable day with the advantage of many badger related paraphanalia for distraction, I recomend Laura's Dark Archive for a great summary of the day and an explanation of how 'badgers are the official mascot for mash up events'
Over 30 ideas were generated throughout the day which hopefully will be added to those on the mashed library wiki, all in all an inspiring day and many thanks to the organisers and speakers.