Finding that pot of gold at the end of the rainbow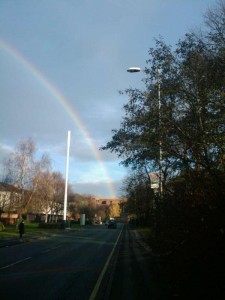 I was invited to give a talk on Thursday 25th November, at the UKSG one day conference, Usercentric: new strategies for scholarly communication. I was very flattered to be asked and it was a great opportunity. Although on the day I was very nervouse and rattled through my talk at break neck speed it was a really good experience and I met some really interesting folk. So what did I talk about, well my slides don't give the full picture so thought a blog post would be better, slightly amended so a lot less wordy.
The conclusion I drew was that we need to communicate and engage with our stakeholders, publishers and users,  much more in order to get a better picture and thereby provide more effective services & show real value for money from our investments.  (save reading the whole post)
The aim of my talk was to look at some of the challenges that I saw facing HE libraries, particlulary from an operational point of view and then look to some potential solutions.  A key challenge is the current economic climate, its uncertainty and also that proposed rised in students fees. This rise in fees I think leads directly to a greater focus on student satisfaction which in turn leads to the rising challenge of managing student expectation/satisfaction.
The findings from the annual National Student Satisfaction survey have been key drivers to investigating why the library is failing certain cohorts of students and implementing action plans.
What I have also noticed is a trend towards more student engagement in terms of help improve issue and resolve problems. For example ebook subscription models allowing access to a greater coverage and purchasing based on demand, ie number of downloads, thereby directly involving users in collection management.  I also mentioned the Student Academic Partnership scheme run by Birmingham City University (which has just won the Times Higher Award for supporting students) where students worked directly with departments. We had a student working with the library to help expolit our rare books collection, which helped provide a great focus and one outcome was a flickr site of some images from the collection.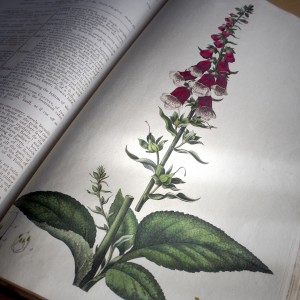 Another challenge I talked about was the strategic aim of making more of our resources available online and some of the issues this raises. Getting value for money with our resources is key. With regards to our ebook collection, while coverage has expanded and collections are growing there is still some resistance of use, owing to poor usability of platforms, limited ability to share content with peers etc. From a collection point of view there were still titles being published online many months after the print edition, so I was really pleased to hear that Palgrave Macmillan were getting to the point of releasing print and online nearly simultaneously (via @bookstothesky) I am also interested in seeing how subscription models would deal with ebook readers, it was dispiriting to hear of the Publisher Association to limit downloading of ebooks to the physical library and limiting to one user at a time, as this really takes away the many advantages and reasons why we would want to invest in ebooks, especially at a time when we must get the best value for our money.
I talked about some of the challenges that arose as we reviewed our serials collection with the aim of moving more titles online to benfit from widening access and availabilty, however we still faced some instances of titles requiring seperate user name and password, on campus access only etc.
As our collections move more online it is leading to a much greater reliance on 3rd party provision which in turn bring about issues of access and usability as well as more complex levels of management & administration. We have to contend with frequent interface changes as publishers are keen to integrate and introduce new features, however sometimes the timing is problematic, this year at least 3 publishers changed thier interface just at the start of term leading to an unfamiliartiy with with the services as students are being introduced to it. We are constantly supporting students who struggle with navigating different interfaces and encountering different issues when access resources on and then off campus. I highlighted how access was a key stumbling block for our students via a word cloud of a months email enquiries regarding e-resources. While appreciating the need to provide access to content via the correct subscription it would be helpful if there was a greater consistency across the various resources and publishers.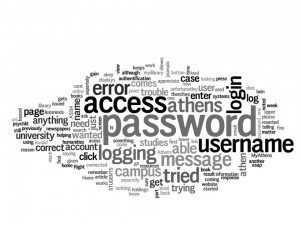 Another key development is the increase in collaborations, I talked about a number of examples at the university of working with business's, FE colleges, overseas etc. Operationally the challenge was how to provide access to content where licenses allow. Our experience of trying to negotiate seperate licenses for a few resources for a specific collaboration  showed it was very resource intensive and not meeting student expectation. Clearly renegotiating licenses at each occasion, especially when in some cases the collaborations only effect a handful of students, is not the most effective way to proceed.
As collaboration increase as does the need to suppot an increasing diverse range of staff and students alongside with a change in culture, an expectation of 'always on' access to whatever you need whenever you need.
My experience of using online services, while genearally positive I find when there are problems I am often left with only an FAQ or discussion forum to help resolve my problem which is not always effective. While we provide 24/7 access to our online resources, staff and students outside of core staffed hours, are  left with the option of sending in an email or refering to the information we provide online.
We have also seen an increase in demand for access not only to resources but also the physical building, a recent article in Times Higher quotes a quarter of HE libraries provide some form of 24/7 opening hours. This again raises the issue of how to support this level of increased access, however the provision of easy to use tools such as self service to borrow & return items could help provide one method of ensuring acess to core resource and allows staff & students to exploit these services more effectively.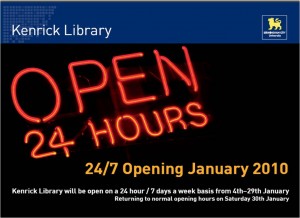 Having raised some challenges, the proposed solutions I look at was the need to market libraries more effectively in gathering different types of evidence to show the value and impact the library service can provide. I used examples of the great work done by public library campaings, including Voices for the Library in highlighting what impact libraries have had on people, the use of twitter by Warwick University library in showing what staff and students value about the library and the findings by Huddersfield library on the pattern between library use and end qualification.
I wanted to highlight what a wealth of data was available and if exploited effectively could be really insightful and helpful. I also wanted to hightlight that in engaging with our students allows us more opportunities of getting a better understanding of what our students want and also benefit from their experience and ideas.
In a climate of reduced resources I think its important that we continue to make the most efficient use of our services and explore the potential of working together more, de-duplicatign work efforts, investigating shared services. An example of a shared service I am looking forward to seeing develop and see what opportunites are provided to both sectors is the Worcester Library and History Centre, a shared public and academic library. I think for collaborations to work effectively communication is key in ensuring all stakeholders have had the opportunity to input ideas and practices.
I also belive its important to continue to embrace and exploit new technology in libraries although we do need to ensure solutions are implement correctly and managed effeciently. One of the challenges I raised earlier was a growth in online resources, books, journals etc and a solution to the problems of navigation, access etc could be resource discovery or discovery to delivery products such as Summon, Ebsco Discovery, Primo etc. These products provide a single place to search and as the data is  centrally indexed its provides quick results.  I do however believer there is an issue of content and while it seems more and more publishers are allowing these services to index their content there are still some gaps, making it difficult for libraries who need to support a diverse range and get value for money.  As someone in the audience pointed out, those not intergrated in these services will see usage drop and this will make them vunerable to cancellation.
RFID is also providing opportunities for libraries to improve and enhance services, allowing staff and students to do more for themselves and thereby freeing up resources which could help support other aims. The successful exploitation of new technology however does lead to development of new skills or a move in focus for areas within the library.
In conclusion, while I think we are facing challening times I also believe librares are well equipped to adapt and provide the flexible services that staff and students require. We do however need to ensure we keep on engaging with our users, our publishers, suppliers, vendors etc in order that we can work effectively together and be realistic in the aims we wish to achieve.