Category —
Uncategorized
Last year Jo & I set up an advent blog to countdown to Christmas based on the idea of 23 Things, and we are back again but this time with a quiz as well as some extra help from Trudi.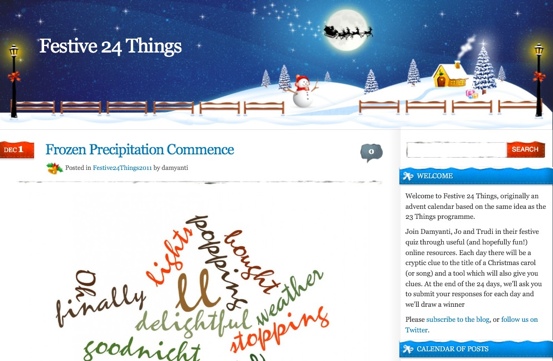 As well as following our Festive24things I have come across a few others, these should keep me entertained on the way to work
Oxford University Computing Services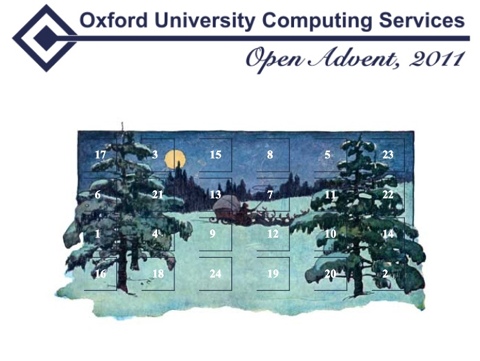 Zappar Advent Calendar (Augment Reality)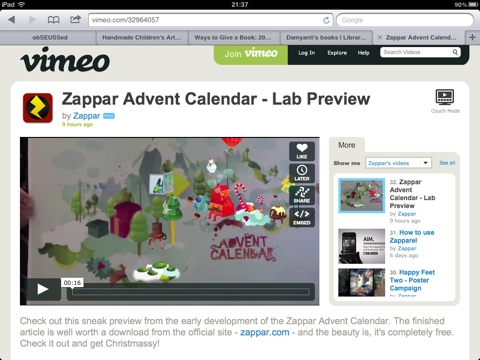 Helpful Technology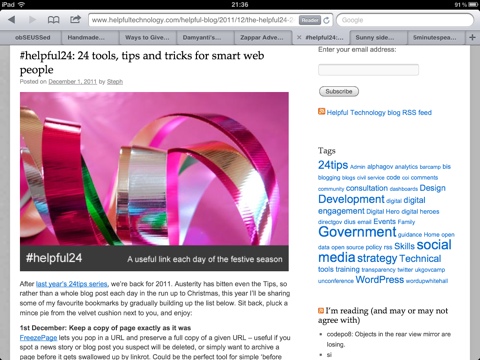 Clara Vulliamy - arty crafty things to do for children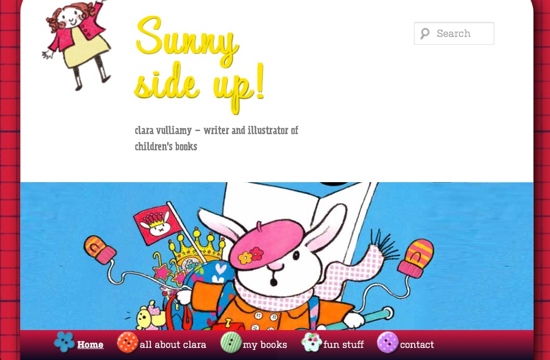 5minutespeaces's blog – 24 days, 24 books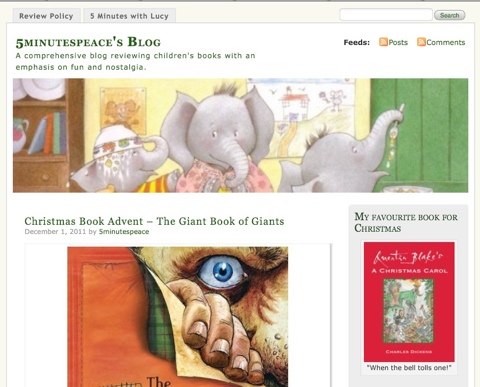 The one however I imagine I will spend most time on over Xmas will be playing Angry Birds Season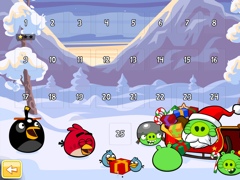 As I have been looking into rare books I have began to wonder about the reader space. I think it would be good if both the physical and electronic copies could be explored together.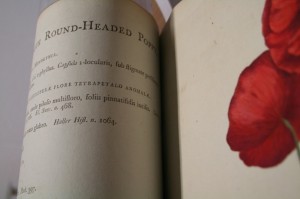 for example
a digital wall allowing you to have a collection of images in front of you with the physical ones in your hands to compare, over lay etc.
a  touch screen desk which once you lay the physical item onto it,  digital images are also loaded onto to it, links to articles, comments etc.
software and hardware allowing users to maniplate images and text from the digitised version
I have very  limited experience of reader spaces within libraries with rare books collections so am interested to hear more about the type of facilites that are available and if there is any successful examples of utilising technology to enhance the physical items within a collection.
I thought I would join in the blog meme having seen a few folk on twitter @joeyanne, @sarahgb
& @WoodsieGirl take part
Do you snack while you read? If so, favourite reading snack?
Not usually as I do most my reading on the train commute to work, but if I do get the chance its generally crisps.
Do you tend to mark your books as you read, or does the idea of writing in books horrify you?
When I was studying I used to write in my books but only in pencil and only in my own copy, never a library copy. I remember when young enjoying reading my older sister's copy of Romeo & Juliet covered in her scrawl which I loved to try and decipher, I thought it added character. Nowadays I might write in the inside cover of a book if it's a present.
How do you keep your place while reading a book? Bookmark? Dog-ears? Laying the book flat open?
I generally use a scrap of paper or old rail ticket as a bookmark but never dog-ears. If I can't find a bookmark I try and remember the page number, although that rarely ever works as I always forget and spend ages skimming through trying to remember where I last left it.
Fiction, Non-fiction or both?
It tends be both owing to reading more work related stuff and I having a keen interest in cookery books, but generally I read more fiction.
Hard copy or audiobooks?
Hard copy, although have started to read ebooks on my iphone – found it really useful when staying in a room without a bedside light and a sleeping baby. As for audio books only when in the car, we had a great trip to Scotland one year listening to Northern Lights  and often staying in the car having arrived at our destination so we carry on listening to the story
Are you a person who tends to read to the end of chapters, or are you able to put a book down at any point?
I prefer to stop at the end of the chapter but it doesn't bother me too much if I have to put it down at any point.
If you come across an unfamiliar work, do you stop to look it up right away?
No and the type of books I read means this doesn't really happen very often!
What are you currently reading?
Am reading 'The Peacock Emporium' by Jojo Moyes as I went to the library last week and got a stash of light reads for my commute. I am also reading 'Sea of Poppies' by Amitav Ghosh.
What is the last book you bought?
Designer Doodles from Amazon
Are you the type of person that only reads one book at a time or can you read more than one at a time?
I generally like to have a few books on the go so I can read whatever suits my mood
Do you have a favourite time of day and/or place to read?
I used to enjoy reading in bed but nowadays with a little boy to look after I don't get the chance, so I tend to do most my reading on the train to and from work.
Do you prefer series books or stand alone books?
I like series books especially having started reading more teen fiction.
Is there a specific book or author that you find yourself recommending over and over?
I have recommended the 'Time Travellers Wife' to a lot of people and the Jasper Fforde series. If there is a book I have really enjoyed they tend to get bought as presents for friends and family.
How do you organise your books? (By genre, title, authors last name etc)?
We are renting at the moment and haven't unpacked our books, the few we have unpacked however are not organised at all. Generally the fiction is organised in alphabetical order by authors last name and the non fiction by genre.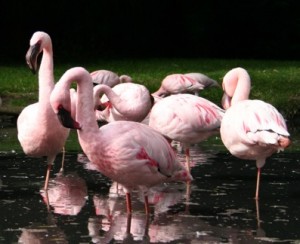 I very recently set up a twitter account for the library at Birmingham City University and have been thinking about what I am going to be tweeting about.
My first thought was as a means to market services and facilities, such as training events, new resources, paying fines online etc and also to share news, such as changes to opening hours, stock moves etc.
Secondly I have been thinking about ways in which to use twitter to engage with students and staff. It was interesting to see the techniques companies, such as Marks & Spencers, use to keep customers engaged and following them such as providing advance notice of sales, 'Deal of the day' #DOTD, competitions and give aways etc.
I am therefore keen to investigate ways in which the library twitter account would be worthwhile to students and thereby keep them following us as well as a channel to provide feedback, make suggestions etc.
I think that usage statistics for online resources could be a good source of information in providing timely tweets, for example recommendations on popular databases. I am hoping to compare usage statistics over a number of years for patterns and use this to promote appropriate database or alternatives.
Another thought is to use Twitter to alert followers to e-books where there is a spike in usage and thereby using twitter as a recommender service, highlighting texts to students that they may not yet have come across.
I also think there may be some potential in looking at search logs, if there are patterns of topic searching we could use twitter to provide further suggestions of keywords to search alongside search tips and alternative resources.
As well as providing useful information via twitter to gather more followers there is also the question about voice and personality. Should we use twitter to show an alternative side to the library such as the back room areas of the library or viewpoints from varying levels of library staff. Personally I have found that I enjoy following COPAC on twitter because of their topical search suggestions which reminds me of the value of libraries and the collections they hold.
I hope that the BCUlibrary twitter account will provide valuable information, personality and rapport for its followers.
At Birmingham City University I've had a number of opportunities to hear about interesting and exciting use of technology for teaching especially virtual worlds.
One project is Shareville, a virtual world with real life video to provide gritty and realistic scenarios for learning and teaching. Students can walk around this virtual world based on Birmingham, including a representation of  City North campus, and click on various hot spots to interact with different scenarios. As well as Shareville, the University's Faculty of Health has developed the VirtualCaseCreator, which is 'software that supports rich, highly interactive, multimedia, online, simulations.'  Unlike Shareville however this has no real video footage and all the scenarios are  computer animated.  Hearing about these amazing projects, and getting to meet the creators, got me thinking about library services and what value they could add to these virtual worlds, and came up with the list below (I suspect there are many examples of these in practice)
virtual representation of a library to provide inductions and tours
virtual trade magazines or journals on coffee tables, buses etc which when selected provides the table of contents or links to articles
shelves of books, cabinets of documents etc which link directly to the online version
representation of student study space
calendars, notice boards, post it notes on fridges etc to remind users of library opening hours
TV/computers as hotspots once clicked can link to streamed media
avatars as a representation of the library catalog or search interface
I am not clear as to how much library resources play a part in this type of learning process, however it did make me think more about how the importance of being part of the students workflow and not just part of the learning process but conusmption of information on a daily basis.