Category —
Web 2.0
I have been in my new post, eLibrary Manager for nearly a year now and thought it would be good to take brief look back.
I am really enjoying having this opportunity to focus on electronic services within the library and a few key areas of interest are;
Opening up data – there is definate recognition in terms of how much more we can do in exploiting the data we collect. The MOSAIC project has clearly shown the value to be gained from the data libraries hold. LMS suppliers are also showing an interest in exploiting library data,  recomender services such as ExLibris's BX uses data from its customers alonside other information. I think the value added to this information is key.
Mashing data – Middlemash was a definate highlight to the year as a great opportunity to meet lots of talented people as well as  inspiration for new services & developments. I could see mash ups allowing us to provide some quick low cost effective solutions. I am hoping to build on middlemash and perhaps organise a local mashette.
Discoverability – with the volume of  information available a key challenge is improving the search experience. Me and my team have been investigating a number of resource discovery products currently on the market and have blogged our progress to date.  There has been  rapid development in these products with provision of some great features. The limitations however are also becoming apparent and a concern of mine is content coverage
Ebooks and ebook readers – the findings of the  JISC national e-books observaroty project came out last year and for many it seems ebooks are the way forward, including BCU. There has also been wide spread coverage of the readers and their ease of use. The announcement of the iPad provided more opportunity to showcase differences in an online reading experience with the potential of added multi media, e.g this demo of Penguin's upcoming books for the iPad. 
I'm still however not sure how we tie the ebook reader with ebooks in HE, what pricing models and subscription services will vendors provide?
Digital collections – I felt, from the conferences I attended last year, focus was on  discoverability of digital collections and gaining an understanding how they are being used. Preservation of digital collection is also important, while projects such as Galaxy Zoo and the Great War Archive highlighted the value of crowd sourcing.  BCU have a large digital collection so it has been interesting to find out more about developments in this area.
Web 2.0 – The opportunity to build networks and join communities has been of great value, espeically in my new role in gaining more of an understanding of some of the issues and priorities facing libraries. Embedding them into my work practice and encouraging their use within the library are areas I really want to develop.
These are only a few of the areas that have been interesting me and I am looking forward to what the next year brings, I suspect plenty more challenges.
March 5, 2010 No Comments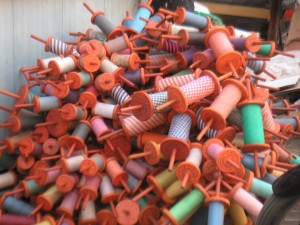 Within a few weeks of starting my new job I was asked if I would be willing to provide a session for library staff on Twitter as part of a summer training event (well I could hardly say no) and so last week I delivered an short session to about 20 staff. (My presentation is available on slide share, all 4 slides!)
I decided to broaden the topic to web 2.0 and as part of my preparation I tweeted asking advice on what I should cover.  As usual people on twitter were more than helpful with plenty of good suggestions and useful resources.
Following their advice I decided to focus on why I use web 2.0 tools and as I sat listing various reasons such as communcication and collaboration (my two key points regarding web 2.0) I realised the most important one was enjoyment. I don't deny that it took me a while to feel comfortable sharing my thoughts and ideas with people I didn't know, however the payback was worth it. I also soon learned that you get what you put into it and contributing and collaborating will pay dividends.
An example was in starting this job. Owing to space, I was located in a different building to my team and although I made sure to arrange plenty of meetings I still spent a lot of the time alone in my office. Twitter however proved to be a great method of making contact with some of my new team  and having an exsisting online community helped with any feelings of isolation and lone working while settling in. (I am pleased to say I have now finally moved into the library)
After talking about my own experience and showing colleagues my own accounts to provide them with real examples of use I then highlighted a few reasons as to why libraries are using web 2.0 tools. It was easy to find some great examples out there which was really encouraging.  I also wanted to make sure the session was a practical one, so I set up a demo Delicious account with a handful of interesting links for people to browse and a Bloglines account in order that they could have a go at adding feeds or adding a blog post. This  also gave me an opportunity to walk round and talk to everyone and answer any specific questions.
I was keen to stress, in my session, that these tools are not for everyone and they are not an instant fix to all communication problems there is however invaluable experience to be gained from having a go and engaging with these new developments.
A week after my session I found Dave Patten (University of Huddersfield) was to give a presentation on web 2.0 at the Engaing our Digital Natives conference, wish I could have stolen it

June 18, 2009 1 Comment