We had a lovely morning in Hay on Sunday, this was Bryn's 3rd visit to the festival & was another successful trip.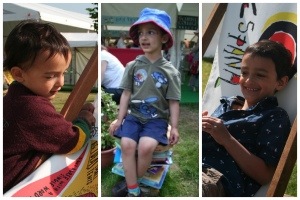 Our main reason for visiting was to hear the fabulous Clara Vulliamy read from her latest book written by James Mayhew, 'Bubble & Squeak'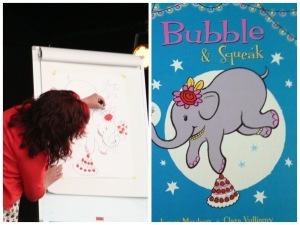 Bubble & Squeak is a deliciously sweet book, to find out more about the book check out these lovely reviews over on Playing By The Book & Story Seekers.
Clara started the session by drawing the 2 protagonist, & went on to read the charming story to a captivated audience. After the excitement of the story we were directed to tables adorned with pink felt mouse noses, beautiful ribbons, colourful buttons and felt to make our own mouse puppets. Bryn and Freya had great fun making their creations and love having their very own 'Squeak'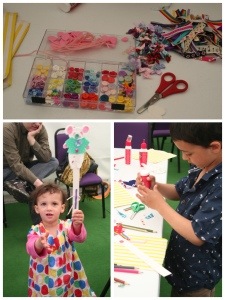 We then headed over to the bookshop to get our mitts on the book and were in store for more treats. As well as getting the book signed we were given a bag with Bon bons, stickers & bubbles.
The rest of the morning was spent blowing bubbles, eating ice-cream, sitting on hay, colouring in & enjoying being part of the lovely literary festival that is Hay