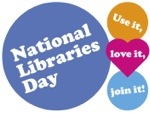 It's National Library day tomorrow and I have blogged previously here & here exactly how important libraries are to me and my family.
Highlights of this year include:
Rhyme time & story events where the children show us how well behaved they can be, chat nicely to the library staff & get the chance to sing, listen to stories, dance, do sticking, colouring, making and generally have fun.
Reading the fantastic Fever Crumb & Mortal Engines series by Phillip Reeve. These were published a while ago so was nice the charge through the series over a couple of months.
Reading the dark but beautifully illustrated Tinder by Sally Gardner illustrated by David Roberts. This is a must have for my shelves.
Downloading emagazines & ebooks onto my iPad. I discovered this service at the start of our summer holiday which was perfect timing, it felt a real treat getting to browse through lots of glossy magazines that I normally feel guilty spending lots of money on.
The summer reading challenge was a great success for Bryn again. This time he was reading the books himself. He really enjoyed browsing the early reader shelves & fishing out new books to try, the Twisted Fairytale series was a huge hit.
Owen appreciated the Dr Who display of books & has rediscovered his fondness for Dr Who stories. We also borrowed 'Dr Who: The Vault' a book full of photos & information from the BBC archive which provided hours of entertainment for Bryn, Freya & Owen discussing 'goodies & baddies'.
Drawing more inspiration from craft & art books leading to some actually finished projects including my first holiday comic.
We continue to use the libraries weekly & love the opportunities they provide.