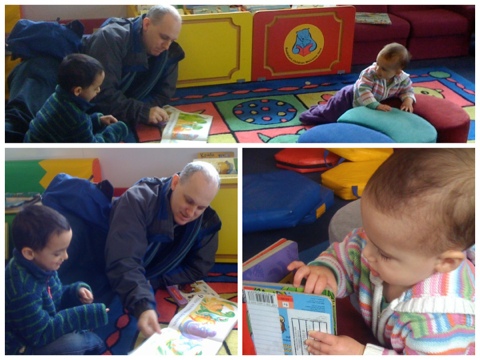 It's National Library Day today, a day for celebrating libraries.
We are regular users of the library, hence this blog, so this morning we headed over to Warwick library. Before going to the library Bryn likes to sort his books into one pile to give back another to keep. It's often a struggle deciding which ones to return but he also knows there will be plenty to borrow.
At the library Bryn & Owen look for books on the computer, I happily forage through the boxes of picture books & Freya enjoys crawling around, smiling, making friends. Bryn looks through some books picking out ones for us to read. We read him 4 stories (the Pirate story twice) & then he builds a bridge out of cushions to act out the 3 Billy Goats Gruff. Freya & I go have a look round the rest of the library picking out books for me to read on my commute, another knitting book so I can look at the pictures but still not knit a stitch & a book on crafts with kids. Armed with our books we head over to the self service machines to issue them & so Bryn can get a receipt. Before leaving the library Bryn politely asks for a stamp on his bookstart passport, one more visit before he gets his certificate.
A typical trip to the library & the last word from Bryn is 'I love the library'