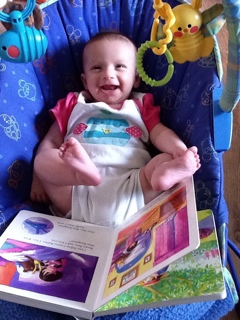 This week we've been reading 'I'll show you blue kangaroo', about a little girl, Lily, who doesn't do as she's told and likes to show off, leaving her much loved stuffed toy to watch. It's only after nearly losing her beloved Blue Kangaroo that Lily finally begins to listen.
What I really liked about the book is the illustrations, they are done in such a bright vibrant pallet of colours providing a real sense of warmth & energy. The illustrations start where the text ends in terms of depicting lily's actions & subsequent consequences. I developed a real fondness for Lily despite her bad behaviour & I think a large part of that is due to the pictures, she looks very sweet with her colour co-ordinated bow.
When I read this to Freya she's been very animated, lots of cooing & smiling. Bryn has enjoyed it too especially studying the pictures to see what chaos Lily is creating. While I could empathise with the adults who are shown continually moving the baby out of harms ways.
I have already bought another story about Lily & her kangaroo, 'I Love You, Blue Kangaroo' which we are enjoying just as much.