I decided to enter 'Playing by the Book's edible book competition, the idea was to create an edible book based on a children's book – what a fab idea. I quickly came to the conclusion however that neither my baking or creative skills were up to such a challenge. As I was just about to give up we woke to a fairly sunny Saturday sending Owen out to dig up the garden & Bryn talking about planting seeds, it was just the inspiration I needed.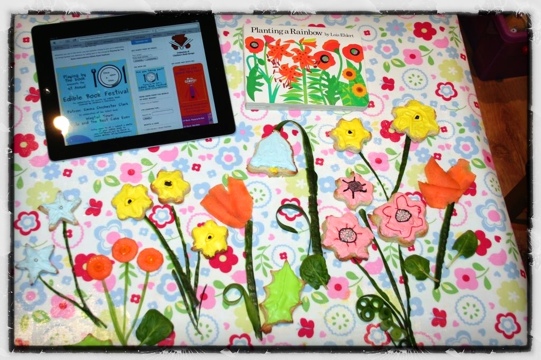 Our entry is based on 'Planting a rainbow', a book I bought for Bryn when he was a baby & one which Freya is currently enjoying flipping though. We bought the book at a time where we didn't have a garden so I used to enjoy reading it to Bryn while planning one day that we too would plant our own rainbow (so far i have managed yellow daffodils & purple irises). I like the geometric shapes, block colours within the book & it is by far my favourite gardening book.
Once we had decided to make a garden from biscuits we rifled through the cookie cutters, Bryn picked out a holly leaf while I chose a bell to make bluebells. Owen & Bryn got to work on the biscuit dough & once cooked then cooled I was let loose with the icing. After decorating the biscuits I raided our fridge & used cucumber peel for flower stalks and carrots for additional flower heads.
This was a fun competition & a fab excuse to fill our biscuit tin with beautifully brightly coloured biscuits, a great start to spring.