This week the bookshop Tales of Moon Lane are holding a children's literature festival with some amazing events, go check it out. One of the fabulous illustrators taking part in the festival is Sarah McIntyre who kindly stopped by to answer a few questions.
What are you looking forward to most at the 'Sun comes out over moon lane festival'?
I was very excited about turning the shop into a huge picture book! And it was AWESOME, 50 kids all packed into the shop with our professional illustrator team, painting and drawing and splodging on the walls. Wonderfully organised chaos.
From you wonderful blog its clear you like to look smart and have a great array of hats, which is your favourite?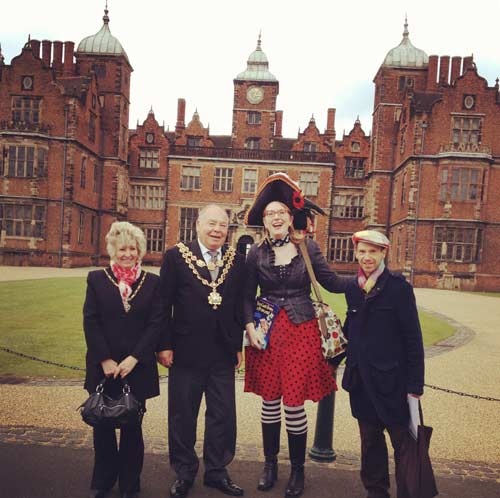 Hmm, that's tricky! I think the pirate hat is most effective, when I do my You Can't Scare a Princess! events. I used to borrow Geraldine McCaughrean's Captain Hook hat (she wrote Peter Pan in Scarlet), but I had it for so long that eventually I needed to give it back. My parents brought out a very sturdy pirate hat from Seattle, and a photographer from Portland, Oregon, sent me a hat that had some amazing trimmings on it, including some big curly red rooster feathers. So I combined my parents' hat with her trimmings and I have to say, my new pirate hat looks pretty amazing.
You have done picture books and comics, do you approach these in different ways?
Yes, drawing a page of comics like Vern and Lettuce takes much longer than, say, painting one of the spreads in Morris the Mankiest monster, where you just see the top half of his body and there's a white background. With Vern and Lettuce, I drew the black line, scanned it into the computer, then coloured it in Photoshop. With Morris, I painted the whole picture onto nice watercolour paper.
Morris the Mankiest Monster is pretty revolting, how did you cope when illustrating it?
I love it! There were so many fun details, like the fleas and spiders that live on Morris, and the rats that live in his house and quite disgusted by Morris. I had fun thinking up all the funny things he'd have in jars in his kitchen and deciding how they'd look. Drawing a tidy room can be a bit dull, it's not that different from something you'd see in a furniture shop magazine. But making a room look horribly bad has much more scope for play.
Bryn (my son) and I love the princess spaghetti stories. One of our habits when reading 'you can't eat a princess' is to pore over the end papers picking our favourite sweets, how important do you find the start and end papers when asked to illustrate a book ?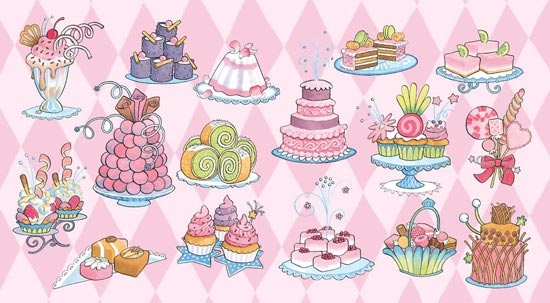 I love endpapers, they can be used in lots of different ways. Some illustrators (such as Lauren Child) make the story go right into the endpapers. Other people use them as a sort of pretty gift wrap. In the Princess Spaghetti stories, I've carried the story a little bit into the endpapers – the cat and parrot are playing together, the aliens are having a wild cake party – but they also look a bit like gift wrap, and make the book feel like something special, a treat.
You have worked with a number of different authors. Is there anyone you would you like to collaborate with in the future?
I'm very much looking forward to working with Philip Reeve (writer of Mortal Engines, Here Lies Arthur, Goblins) on four new chapter books; the first one, Oliver & the Seawigs, is a sea adventure and has a shortsighted mermaid in it whom I like very much. We've already started on the first book and it's been such good fun.
After seeing Grayson Perry's six huge tapestries in his exhibition, In the Vanity of Small Differences, I'd love to make another tapestry with him. Or perhaps a comic collection in collaboration with him and his comics writer wife, Philippa Perry; or a set of lino cut prints, I think we could have good fun doing that. A while back on Twitter, Alex T Smith and I were bandying around the idea of doing tapestries, but they're very expensive to commission, even though they're woven on machine. I know Chris Haughton (who's involved in the festival) commissions hand-woven tapestries from a business he set up in Nepal, which is pretty awesome. But I like the large size, and how much detail Grayson can get into the big machine-woven versions. Basically I love trying new things with people who are really excited about what they're doing.
Which of your characters would you most like to have tea & cake with?
Vern and Lettuce feel very much like good friends after I've created their world and invented how they talk with each other, so I'd have to pick them. They're my buddies. I would not want to eat a piece of cake with Morris, he'd probably make a big poo on it.
Bryn and I are very fond of two books illustrated by Sarah McIntyre & written by Gillian Rogerson, You Can't Eat a Princess & You Can't Scare a Princess.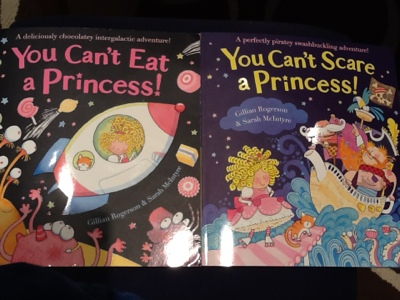 The books feature feisty Princess Spaghetti who rescues her father King Cupcake from aliens in the first book & pirates in the second. Bryn enjoys the fact that the princess takes charge & convinces both aliens & pirates to follow her recommendations, something I am sure he wishes I would do more often.
I really love the detail & humour of the illustrations, there is plenty to pore over, admire & chuckle at. One of my favourite spreads in You Can't Eat a Princess is the rocket flying through space past planets made of sweets. All the characters, from Princess Spaghetti to members of the pirate crew, are drawn with vibrant personalities, helping create a fabulously exciting & colourful world. The good news is, owing to some fab activity sheets, you can continue playing in this fun world.
If you want to find out more about Sarah and other childrens book illustrators & authors then head on over to Tales on Moon Lane, a fantastic childrens bookshop hosting a fabulous festival