We regularly come home from the library with hoards of books, however there are always some which Bryn (and me) find difficult to add to the 'books to return' pile. Here are a few which we have enjoyed reading so much that it's going to be hard to say goodbye.
Ella by Alex T. Smith
This is a cinderella inspired tale of a ladybird, Ella, who finds herself as a muse & true love to the famous artist Pierre, the spider. Bryn liked it because of its similarity to Cinderella & proudly informed me that Ms Buzzbottom was the fairy godmother. He was particularly taken with Pierre & very happy about the Bug Ball, bugs dancing on candlesticks are very funny apparently. The shiny cover feels like you are opening an invite to a fabulous party and inside the story delivers plenty of drama & sequins. The book is crammed with charm, detail & humour, my favourite spread was of the framed picture of Ella which included a separate frame for her antennae. The only downside of reading the story is being left with 'umbrella' as an ear worm (but it's worth it)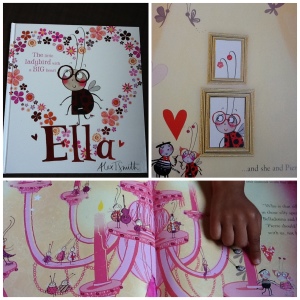 One Cool Cat by Susannah Corbett, illustrated by David Roberts
A story of an uber cool cat who laughs at silly superstitions, although the last laugh is on him. I enjoyed this book, especially reading it out aloud & playing at being such an arrogant & sarcastic cat. I also liked the practical and sometimes sarcastic ripostes given to the superstitions voiced by the black cat,'Oohh I wouldn't step on those cracks'….. 'no don't tell me, in case a small volcano erupts under my paws'. It is however the amazing illustration which makes the book such a success for me, the beautiful colour palette & use of white space. The drawings bring lovely movement to the book, like the swish of the cool cats tail. It's definitely one cool book.

Hans and Matilda by Yokococo
More cats although this time it's about Hans & Matilda who could not be more different, Matilda was such a good cat while Hans was always in trouble. This was lots of fun to read, especially the first reading with Bryn when he hadn't worked out the humorous twist in the tale. In subsequent readings he delights in being able to provide spoilers to this wonderful story. The bold & simple illustrations with contrasting backgrounds when depicting Hans & Matilda adds an additional dimension to the charming twist in the tale.