We had a fabulous weeks holiday in Chicago which included a pleasant mooch around a small independent bookshop as well as a trip to the public library.

It was great to see the large selection of picture books in both places although I was surprised how few paperback editions they had. At both the bookshop & library the books were all lined up along the shelf, spine facing out, which wasn't the easiest for browsing. This did not however curb my enjoyment of combing the shelves and discovering different illustrators & authors. If there were no limits on funds or luggage space I could have happily bought a stack of new books but in the end I chose the following.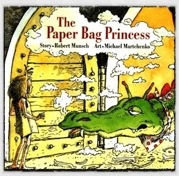 I was pleased to find the board book edition of Paperbag Princess, while I am looking forward to reading the full edition to the kids I thought this would be a great first introduction to the world of princesses for Freya. A story of an intelligent princess outwitting a fearsome dragon & forging her own path, whats not to like. I also love the line 'you look like a prince, but you are a BUM'
For Bryn, knowing that he was beginning to enjoy longer stories & that we had an 8hr plane journey ahead I opted for a couple of early chapter books. I choose 'Happy Birthday Bad Kitty' by Nick Bruel which is a great mixture of humour & fact. I think Bryn was taken with Kitty's bad behaviour & after a few a readings he was confident enough to pick out his favourite parts of the story. There was also a good balance of illustrations and text allowing him to easily follow the story. This book was such a success we even tracked down another in the series at the local library.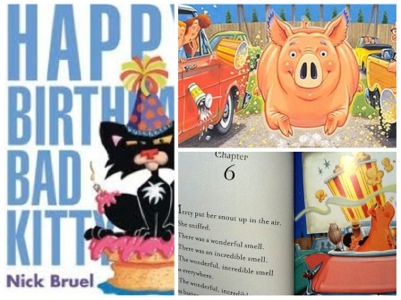 My second choice was a book from the Mercy Watson series, also featuring a mischievous animal, a pig. The main reasons for choosing 'Mercy Watson, something wonky this way comes' by Kate DiCamillo were because of the illustrations and that it provides a slice of American life (although from around the 50's) In this story Mercy is taken to an outdoor cinema where she causes havoc eating everyone's popcorn until the firemen come to the rescue. I love the bold vibrant illustrations which help the story leap out from the pages into a fun rollicking read.
Here are some of the books that I was also keen to buy