This is a review Bryn & I wrote for the Guardian Family Review Section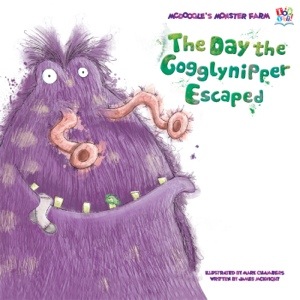 The Day the Gogglynipper Escaped is part of the McDoogles Monster Farm series, featuring a farm with monsters instead of the usual cows & sheep.
Bryn's first impression of the book was positive. He liked the cover illustration, showing a hairy monster with 'funny nostrils'. He was fascinated by the first spread which introduces the farm and happily picked a favourite monster.
I found it a fun tale and liked Diggle, the spirited little boy who sets out to find an escaped monster with his trusted dog in tow. The illustrations are charming with lovely bright colours & vibrant textures. Bryn also found it fun, especially when Diggle finds himself in 'a big steaming pile of Gogglynipper poo'. His fondness for the monster was clear when at the end of the story he told me he found it a little sad as 'the monster didn't get any socks to eat'
We enjoyed reading this story & look forward to hearing more tales from McDoogle's Monster Farm.