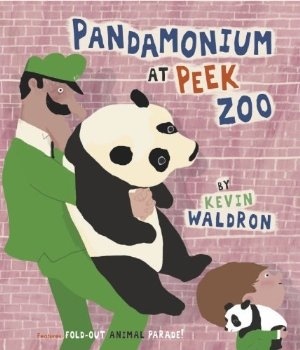 Pandamonium at Peek Zoo brings the return of the fabulous Mr Peek and his son Jimmy. Mr Peek plans an animal parade to celebrate the arrival of a new baby panda. The preparations however are not plain sailing, with Mr Peek being the main obstacle.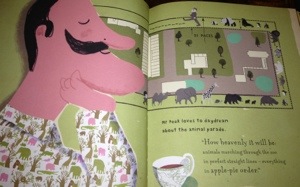 Like Mr Peek I too have been daydreaming about organising a parade in honour of this fantastic book (although not in such stylish pyjamas)
The head of the parade would be Mr Peek, a fantastic character. He brings an enormous amount of humour to the story as in his oblivious state he generates chaos.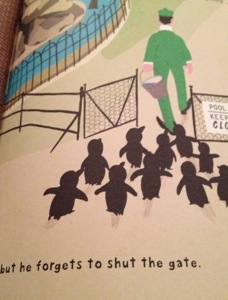 Followed closely behind by Jimmy the true hero of the story fixing Mr Peeks mistakes & avoiding "pandamonium"
The adorable baby panda Lulu adds cuteness to the parade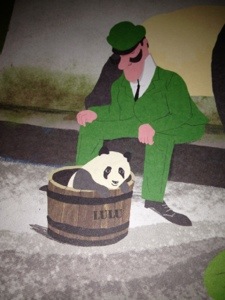 At the rear of the parade we have the charming language in the story with beautifully quaint phrases such as "Tickety Boo" & "apple pie order". Bryn loved these phrases & was even inspired to create his own for one of the many disasters in the story which he described as "apple crumble"
Adding fireworks to the parade are the stylish illustrations containing key plot developments helping pace the story. Bryn eagerly poured over the illustrations keen to point out what was about to happen next, being actively part of the storytelling.
The much talked about Mr Whiskerwitz pads in front of the big finale, the endpapers which contains hints of another possible Mr Peek story (or perhaps it's just my wishful thinking)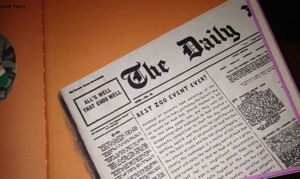 This is a fantastically funny story, a beautifully crafted book & thoroughly enjoyed by all the family.
Disclaimer: I received this book from the publisher. I was not asked to write this post, nor was I given any money for doing so, and the review represents my own honest opinion.