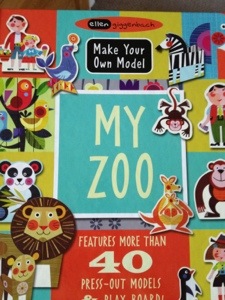 We had a fun afternoon with this fabulous model book, containing beautiful stylish paper press outs which were easy to fold into a fantastic little zoo.
This was a great high quality craft activity which kept Bryn amused for a couple of hours. A big bonus for me was he was able to do this with little intervention from me and there were also no added extras such as glue, scissors etc for me to track down.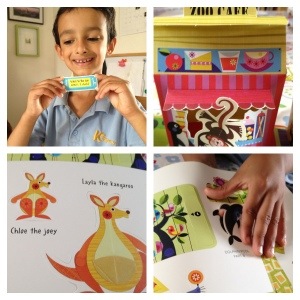 Bryn also appreciated the high quality commenting on the small details such as the elephant ears sticking out & there being a joey in the kangaroos pouch.
In fact he continued to shout out things he liked about the Zoo throughout making it, 'the patterns are very good' 'the animals are very cute'. He was really proud of what he'd created & was looking forward to giving out tickets to his zoo. He's already got plans to make a bigger base with a road for the zoo bus. I think there's more life in this zoo than just the building.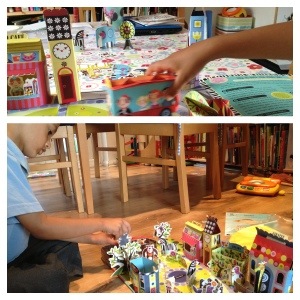 The book wasn't quite so suitable for his more boisterous 2 year old sister who found it difficult not to tear & bend the pieces, so quickly moved onto playing with the more industructable playdoh. It was however perfect for Bryn who is naturally more careful & particular when it comes to crafts.
A well designed & thoughtful gem of an activity book.