We finally got to visit the Seven Stories Museum, thanks to very generous inlaws treating the family to a few days in Newcastle.
I've been wanting to visit Seven Stories for a long time & it didn't disappoint. It's a fantastic museum dedicated to celebrating the enjoyment, wonder & pure delight of storytelling. After a full day of exploring it was clear that if this was a local museum we would be visiting frequently. It is what I would wish many public libraries could provide, an imaginative vibrant space brimming with ideas, opportunities & wonder.
We began at the cafe fuelling ourselves for the day with a large slab of Victoria sponge, well we were celebrating a birthday (any excuse). Then we headed down to the craft station where there were a range of activities, Bryn opted for making a dinosaur mask inspired by Tyrannasourus Drip & Freya explored one of the many comfy book corners.
Next was the story attic where unsurprisingly they delivered daily story sessions, on one side of the room was a great big wooden chair awaiting the storyteller while on the other was a large stash of dressing up outfits. Bryn happily dressed as a dragon charging round the mini theatre much to the amusement of his sister.
Bryn & I also explored the story lab, which had exhibits hidden under flaps along the wall. I loved seeing some original artwork & preliminary sketches giving a little glimpse of some of the extraordinary archives the museum holds. The room also had a few computers with interactive puzzles which Bryn enjoyed playing.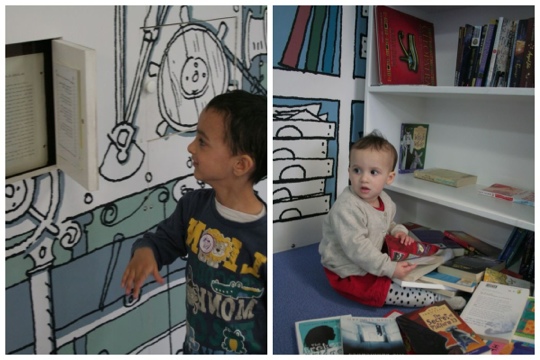 The highlight of the day however was the current Julia Donaldson exhibition. A fantastical exhibition designed to make you feel like you were stepping into her books. The exhibition covered a sample of her work, each area was bright, colourful & engaging reflecting the nature of the books themselves. They was a wide range of activities for the children as well as original artwork, insights into the publishing process, story developments, editing etc. I really enjoyed the exhibition and it was fascinating to discover more about both author & illustrators. Bryn also had fun dressing as a troll, squeezing a pig & goat into a house, shaking hands with a gruffalo, drawing a cave baby and listening to many of the stories again.
Seven Stories puts the theatre back into books, with puppets, dressing up, crafts, storytelling etc. It also made me think it was worth it, now & again, to make reading an experience & not just something to make my commute bearable. So am looking forward to finding a cosy armchair, putting my feet up, snuggling under a soft blanket, stocking up with plenty of cake & whiling away an afternoon on a luxurious read (just don't tell the kids).