I remember buying this nearly 4 years ago as one of the 3 for 2 Waterstones offers, Oliver Who Would Not Sleep was the second book (more of that another time) & I can't remember the third.
We are big fans of Emily Gravetts work & this is a great book for young children. Monkey & Me is a story of a girls trip to the zoo with her stuffed monkey & the animals she encounters. I love the drawings of the little girl impersonating the animals, they provide a great sense of energy & fun, this high energy winds down as she returns home begins to rub her eyes & slowly nods off at the kitchen table.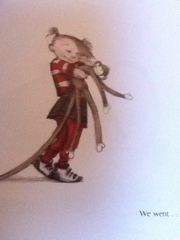 As with her other book 'Blue Chameleon' while simple in text & illustration this really delivers an engaging fun read aloud book. The rhyming refrain Monkey & Me is repeated helping build up tension as to what animal will be show overleaf & at the end of the story it is used with long pauses to slow down the pace, creating a sense of tiredness. I also like the contrast of lots of white space on the double pages with the drawings of the girl compared to the busy drawings of the animals taking up all the pages, it provides a real impact after the suspenseful build up. The colour palette is muted aside from the flashes of red stripes on the girls tights & her red jumper, which add to the mood of the book. My favourite page is the depiction of a very familiar sign of tiredness, the little girl rubbing her eyes, signalling the end to such an exciting day
When reading this to Freya it seems she enjoys the repetition of Monkey & Me followed by my impression of the animal (I've not mastered a great impersonation of a Bat as yet). I am looking forward to her growing with this book & in time being able to guess which animal is coming next with her own animal impressions as her brother did.
All illustrations © Emily Gravett