As its World Book Day it seemed an apt time to post about a children's author & illustrator I only recently discovered, Clara Vulliamy.
I came across Clara via twitter just before Christmas & am so pleased I did as not only does she create the most charming books but her tweets are also of the same bright sunny disposition. I should also mention her beautiful blog which has nearly persuaded me to pick up a needle & thread to get crafting.
We are currently enjoying two of Clara's books, the first is one we picked up from the library a few weeks ago The bear with the sticky paws, won't go to bed. A story of a young girl refusing to go to sleep, "I'm really really busy" until a bear comes to visit, with a very mischievous grin & suggests an adventure. To begin with the girl is happily joining in all the activities but is slowly worn down until she is asking to go to bed. A great bedtime story providing a big burst of energy just before sleep catches you. I adored the detail in the illustration, with the tiny toy bears, fruity cocktails & ice lolly clock while coveting the little girls pyjamas. It's a stylish treat with a colour palette which includes the most fabulous turquoise, pinks & orange.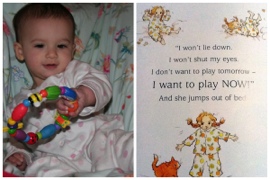 The second book we won alongside a stunning print in a competition on Clara's blog. In Muffin & the Birthday Surprise we meet another sweet little bear. Muffin gets an invite to a party & takes along a bag of sugar buns (what an ideal gift) although on the way he gets a little peckish. After a fabulous party with games & a small mountain of biscuits it's time to open the presents & Muffin realises his is a little flat. His ingenious plan to get out of this pickle made me smile. It is a very sweet read aided by such charming illustrations & some patterned pages making me feel like I too was getting a present to open.
Bryn enjoyed the story & the anticipation of what Muffin was going to do about his present. Freya meanwhile, obviously inspired by the pictures of the sweet treats was keen to get her teeth in the book. I think she may enjoy a few of these bunnies to chew on when next time i read the book, I better get sewing.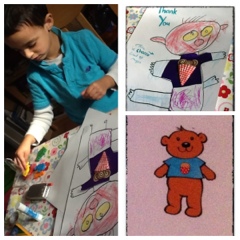 CAUTION – reading these books may lead to eating sweet treats
Illustrations copyright Clara Vulliamy