This is a review Bryn & I wrote for the Guardian Family Review section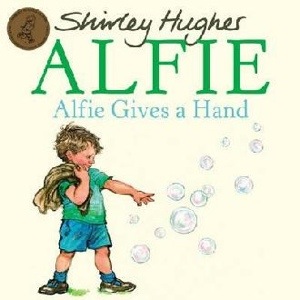 'I love it' Bryn announced as soon as we finished Alfie Gives a Hand. Another classic Alfie story, here he goes to a birthday party and overcomes his shyness by helping a friend. I think it is a beautifully charming glimpse into toddler life & perfectly pitched at its reader.
We have read a few Alfie stories & like the others this one was met with an instant seal of approval from Bryn. He was engrossed by the realistic illustrations, noting the detail such as the transparent shower curtain which he said reminded him of water & the toys strewn across the room. He clearly enjoyed the comfort of being enveloped in such a recognisable & familiar world.
I also enjoyed this story & there was plenty of scope to talk to Bryn about the themes in the book, such as Alfie being worried about going to a party without his mum and birthday boy Bernard's behaviour. I am also a fan of the illustrations & the joyous scene of the children popping bubbles wonderfully captures the party atmosphere.