This is a review Bryn & I wrote for the Guardian Family Review section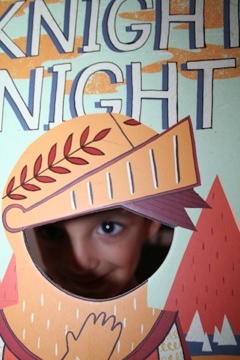 I absolutely love this picture book; stylish, beautiful, fantastically funny and perfect for bedtime.
The book depicts a bedtime routine in a truly knightly fashion. The illustrations combine the mundane with the fantastical as we follow a little boy's journey to bed. It begins in a hallway which turns into a forest, while a bath becomes a lake full of wondrous sea creatures & the family pet is apparently a three-headed dragon. The story perfectly captures the joy of imaginative play which I think appeals to Bryn.
I found it a charming book which made me smile. My favourite illustration shows the little boy with a colander on his head grasping his toy horse. Bryn chuckled at "lights out", a double page spread in black paper with the faint outline of the knight.
With its retro illustrations and beautiful colour palette, this is one I enjoy even more than Bryn. An outstanding picture book.