This is a review Bryn & I wrote for the Guardian Family Review section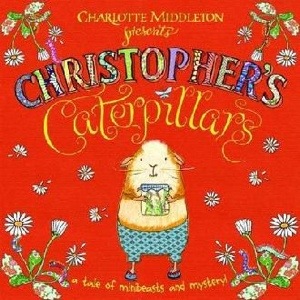 The stars of the book are two nattily dressed guinea pigs, Christopher and Posie, who get embroiled in a caterpillar mystery.
The guinea pigs find six colourful caterpillars and decide to keep them as pets, with help from the local cafe owner Mr Rosetti who "knows everything about everything." They are however taken by surprise one morning when the caterpillars go missing.
Bryn immediately unravelled the mystery, having been a keen reader of The Hungry Caterpillar. A simple story but one Bryn repeatedly asks for. He is fascinated by the illustrations, a mixture of collage and drawing, and enjoys picking out the photographic detail. The last page is a favourite with its witty take on a few classic paintings.
On our first reading I thought that Christopher's Caterpillars was a little young for Bryn. However, with Bryn's clear enjoyment of the book, and repeated readings, I find myself admiring how the guinea pigs take charge of the situation, making lists, getting advice, checking email and drawing up posters. I am taking more notice of the rich, colourful illustrations and beginning to appreciate this charming fun tale.