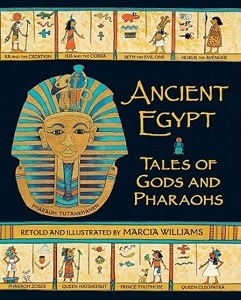 This is sumptuous book with its large format, some double page spreads and nine fantastic stories of Egyptian Pharos & gods. The stories are retold in comic strip format which I thought worked really well and echoed the feeling of hieroglyphics.
I wasn't familiar with these Egyptian stories so I'm not sure whether the retellings do them justice, but the comic strip format certainly made the action & adventure of the tales more accessible for Bryn. While I found some of the tales a little gruesome, Bryn was very keen to hear more and happy to explore all the detail within the panels. His favourite page was the double page spread of the 'red hippopotamus' in the tale of Horus the Avenger. This break from the comic strip panel to one large picture created impact & added to the drama of the story.
Underneath the stories runs a single comic strip providing an historic commentary from a cat. This includes details on mummification and an alphabet of hieroglyphics. We enjoyed using the latter to write out our names.
A really enjoyable book providing an engaging introduction to Egyptian mythology and history.