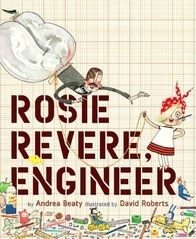 Rosie Revere, Engineer is a lovely book for so many reasons it's difficult to know where to start.
Told in rhyming couplets this is a story about a shy girl with a head full of amazing ideas. After a knock to her confidence it's her Great-Great-Aunt Rose who teaches her an important lesson & helps rebuild her confidence.
I was lucky enough to win a copy of this book & since it landed in our house it has become a new favourite for myself & the children. I love the strong messages in this book about determination, perseverance, self belief. The message about celebrating failure however is the one that hit home, Bryn often sets himself high standards which he doesn't reach and finds frustrating, but having read Rosie Revere we now know we just need laughs & hugs from a Great-Great-Aunt Rose to help put things back into perspective and not quit.
The celebration of women in the book is another joy with its clear homage to Rosie the Riveter & the acknowledgement of great women who have contributed to aircraft engineering. Coincidentally Bryn currently has a book from the library about the worlds greatest inventions & discovery however very few women are listed so it was nice to have this book to help balance things out.
The illustrations are also magnificent adding a real sense of style, quirkiness & humour. I was also pleased to see a more multicultural mix to the children in Rosie's class and the last spread of the book is the picture I hope is happening across all school classrooms, the opportunity to have fun, learn, explore and create.