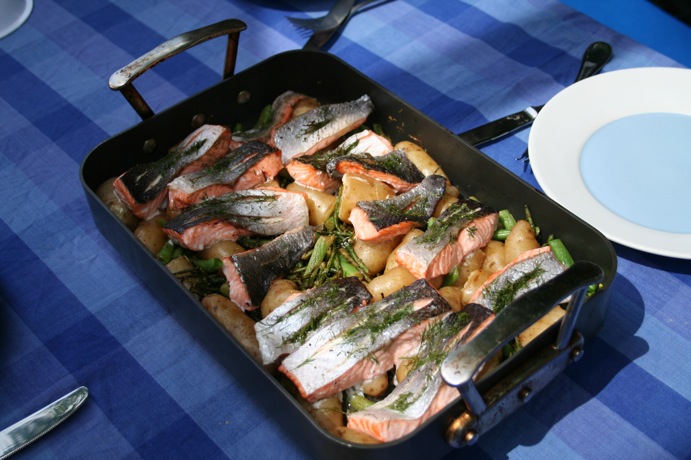 This is based on a Jamie Oliver recipe (from Jamie's Dinners), but with some slight variations.
Salmon fillets
Runner beans
Broad beans (we took the outer skin off because I'm fussy and think they are bitter)
Peas
(we stopped here, but any other seasonal green stuff you want)
Samphire (this was an impulse buy when we saw it in the fishmongers)
Lemons
Dill
New Potatoes – we used Anya, but any small variety – like Red fur apple or Rattes
Pre-heat the oven to 230 degrees.
Boil the potatoes for 10 or so minutes, and add any beans that might need a bit of pre-cooking – for us, just the runner beans – for a few more minutes. You don't want them completely cooked, as it is all going into the oven for 15 minutes.
Descale the salmon (just scrape the scales off with a knife), cut into portion sized bits, and cut two or three slits in the skin. Roughly chop the dill, and push into the slits.
Drain the potatoes and other veg and put into a baking tray with all the other veg and samphire. Season with salt and pepper (if you are using samphire you won't need much salt as it is quite salty), add lemon zest and lemon juice (we used 2 lemons for 6 people) and mix together. Lay the salmon portions on top, and drizzle with oil. Put the tray in the oven for about 15 minutes – basically until the salmon is cooked.
And that's it – incredibly easy, and tastest great, especially eaten outside with a glass of wine, in the company of family and friends on a beautiful summer's day.