I felt like curry last Monday, with Owen going to be home late, I had an hour to myself to kill but hadn't been shopping luckily we had lentils, potatoes and eggs so I made tarka dhal, egg curry and bombay potato curry.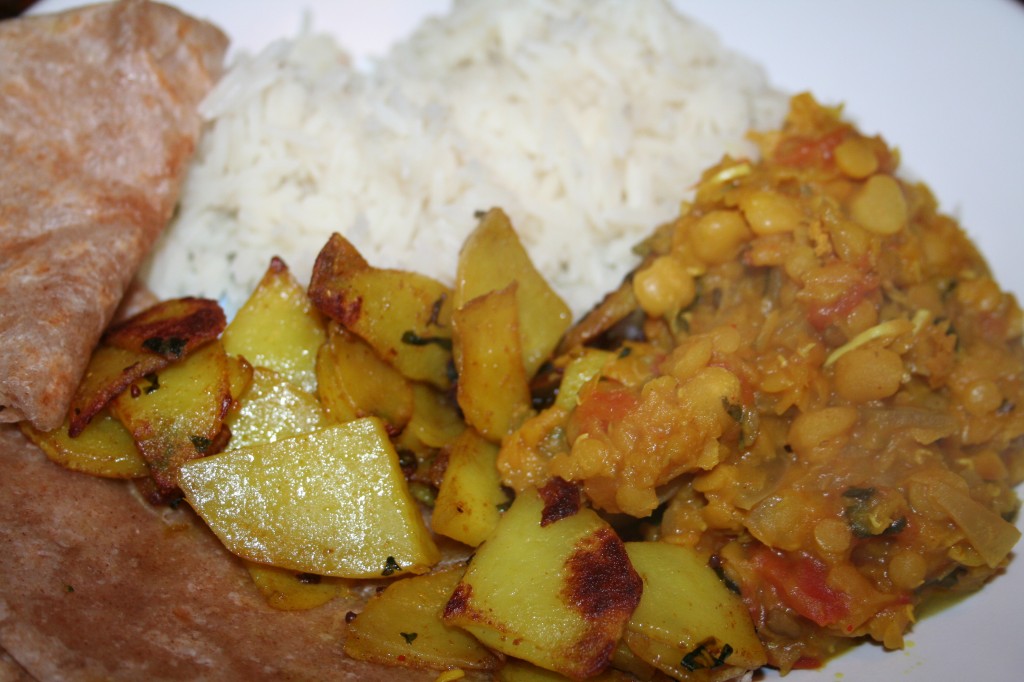 Before making a curry it's best to make up some masala – a mixture of chilies, garlic and ginger all finely chopped and mixed with a ratio of 2 chilies to 1 garlic clove and small knob of ginger.
Scrambled Egg Curry – this is one of my favourite my curries and only takes 10 mins to make
Sliced Onions
Eggs x 2
Masala
Turmeric (pinch)
Cumin powder (pinch)
Coriander powder (pinch)
Coriander Leaves
Fry the onions slowly, once they are translucent and browning add the chopped chilli, garlic and ginger and the dried spices. Fry for a minute or two while stirring, then break in 2 eggs and scramble until the eggs are cooked well. Once cooked stir in some fresh coriander leaves.
Bombay Potato – another of my favourites
Potato x 3
Oil – 1 tablespoon
Mustard seeds – pinch
Masala
Chili powder – pinch
Turmeric – 1/2 teaspoon
Cumin powder – 1/2 teaspoon
Coriander powder – 1/2 teaspoon
salt – pinch
Coriander leaves
Quater the potato and then finely slice, each piece about 1cm thick, its best to try and get all the slices to be the same size and thickness so they cook evenly, rinse in cold water.
Add the oil to a frying pan then the mustard seeds. Once they start popping add in the sliced potato and stir (be careful as the oil will spit). Add the masala, spices and salt and stir. Leave to cook on a low heat till the potatoes are soft, if they start to stick to the pan add a little more oil. When the potatoes are nearly cooked add some coriander leaves.
Tarka Dal – I use a recipe from 'Easy Indian' by Das Sreedharan. Serves 4-6. This a good curry to make as you just add all the ingredients to the pan and leave, its also a good curry to freeze.
Red lentils – 200g
Yellow split peas – 50g
Sliced Onions x 2
Diced tomatoes x 2
Garlic cloves chopped x 2
Green chili sliced x 2
Chili powder 1.2 tsp
Turmeric 1 tsp
To finish – 4 cloves of garlic sliced & 1/2 tsp of cumin seeds
Add all the ingredients to a big pan and then add about 2 pints of water and bring to the boil. Once boiling, reduce the heat and leave to simmer with lid on for about 20 mins or till the lentils begin to soften. I find the red lentils cook quicker than the yellow. Leave uncovered for 5 mins. If very watery then I tend to pour some of the liquid out as I prefer my dhal to be thick. Before serving, fry a little oil in a small frying pan and add some cumin seeds and the sliced garlic, once the garlic starts browning pour into the dhal.