I woke before 7 again. Although I'm not particularly conscious that I'm worrying about the current situation, I obviously am and I suspect that's part of the reason I'm waking early (I know 7 isn't particularly early generally, but it is for me!)
I let myself have a slow start to the day, getting on with the spelt bread I started yesterday. Thanks to D we got a Sainsbury delivery today – initially left on the wrong doorstep by the delivery man (luckily he phoned to say he'd left it, and D got to the door before he drove off!) and that prompted me to do a proper review of what we have in the freezer (although my ideal is to keep the freezer full and only start using stock from there if we absolutely have to). With the new supplies plus some things from the freezer I was able to cook bolognese tonight (using the chicken stock I made at the weekend) which the kids really enjoyed.
We've not quite got a handle on how much milk we get through (although I partly blame D as she has a tendency to suddenly decide to offer the kids hot milk/hot chocolate without first checking we actually have enough milk). We didn't order any from the supermarket as we are getting regular deliveries from the milkman, but after B had breakfast there wasn't much left from the bottle we got on Wednesday. As a result I had to make do with an almond milk latte this morning (oh woe is me) but I was pretty pleased with the result (although I still prefer dairy milk for tea and coffee).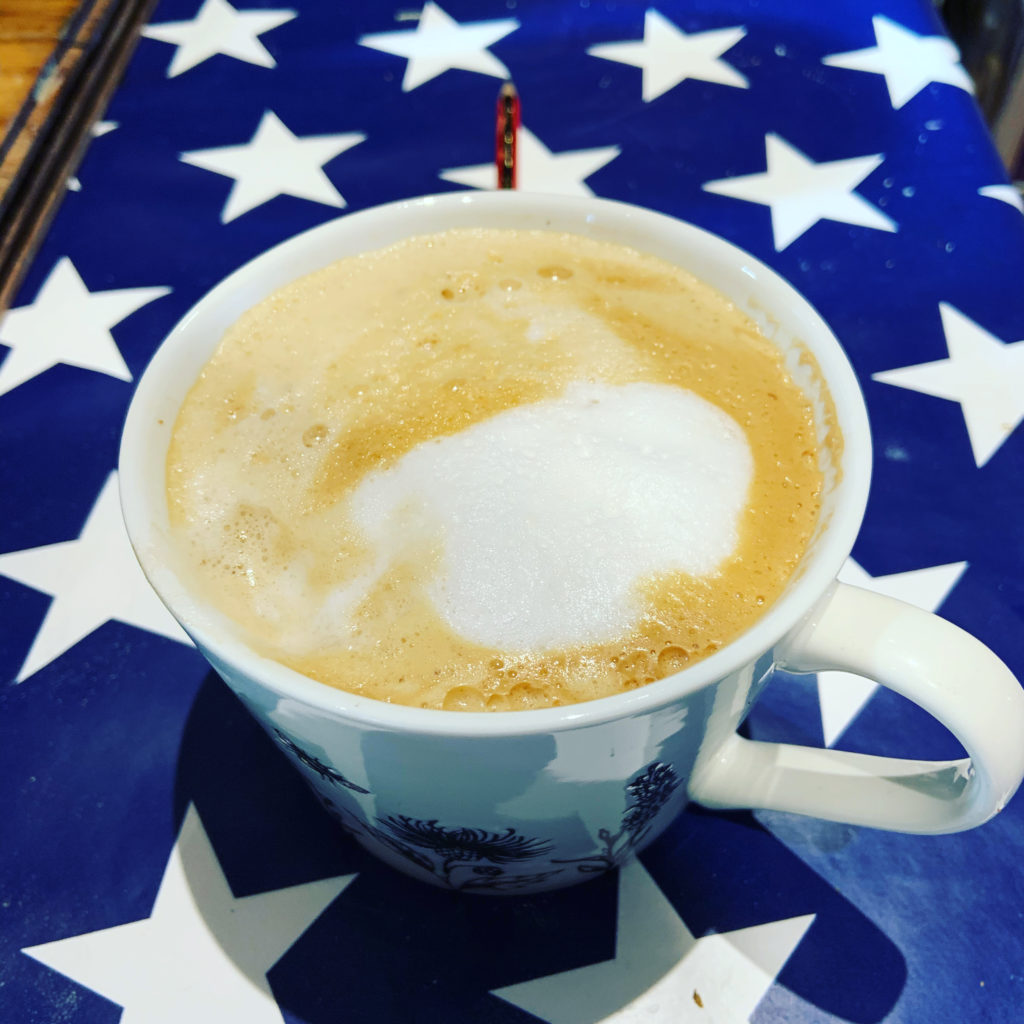 The Spelt bread worked well and made a great ham, cheese, salad & pickle sandwich for another garden lunch in the beautiful spring sunshine – glad everyday that its nice enough for us to get outside in the garden.
After a relaxed morning the afternoon was more stressful but just normal work stress to be honest – too much to do and not enough time. At 5 I joined Seb (our choir music director) for a webinar on arranging music for choir. There was quite a lot to take in, and I was desperately trying to remember my grade 5 theory to keep up. I think I'll need to re-watch the recording, although it did generally make sense as we went through it – he's set me some homework to try to do the harmony for a short (8 bar) tune – which is a nice challenge.
My work bled into the evening until about 9:30, and D and I were both tired out and nodding off a bit as we watched TV. At 8pm there was a "clap" for all those working to keep us safe through the pandemic – especially NHS staff. D and I clapped in the house, but no-one in our crescent of houses seemed to be out clapping (maybe they were doing the same as us though!). It seems other areas were clapping away outside as Mum said her street were out clapping, and lots of people from choir had been joining in and able to hear others doing the same.
Time for bed now. Stay safe, stay strong