We get a fruit and veg box delivered each week, and generally if there is an option that we don't like or don't use that much we can set a delivery preference to say we don't want it. However, kiwi fruit is one of those things which I never take off the list of options because … well actually I'm not sure why – I suspect I feel that we *should* be eating it – but so often we end up putting soft kiwis in the compost bin.
So a couple of weeks ago I decided enough was enough – and I really should do something with the kiwis. One recipe I've used before is Jamie Oliver's kiwi salsa (part of his fish taco recipe) which I recommend, but I was looking for something different – so I decided to try making kiwi jam.
I started with a recipe I found in the Guardian which is great because its so simple:
Kiwi fruits – as many as you want
1 tbsp sugar per kiwi
1 tsp lemon juice per kiwi
I used to be a real stickler for following recipes to the letter, but years of living with D and reading food writers like Nigel Slater, plus some confidence in my ability to cook, has meant I'm more ready to experiment and deviate from the recipe.
The recipe says to leave the skin on the kiwis, but I knew D wouldn't like that, so I just scooped out the insides with a teaspoon instead. I'd mixed up the kiwi and sugar and was adding the lemon when I realised I was a little short on lemon – so I was wondering what I could add that was 'citrusy' and remembered a bottle of grapefruit gin I had in the cupboard (a Christmas present) – so I added a few splashes of that as well (it was total guess work – I was adding a bit more than I would have of lemon juice to try to get the flavour through – but still measured in teaspoons I'd say).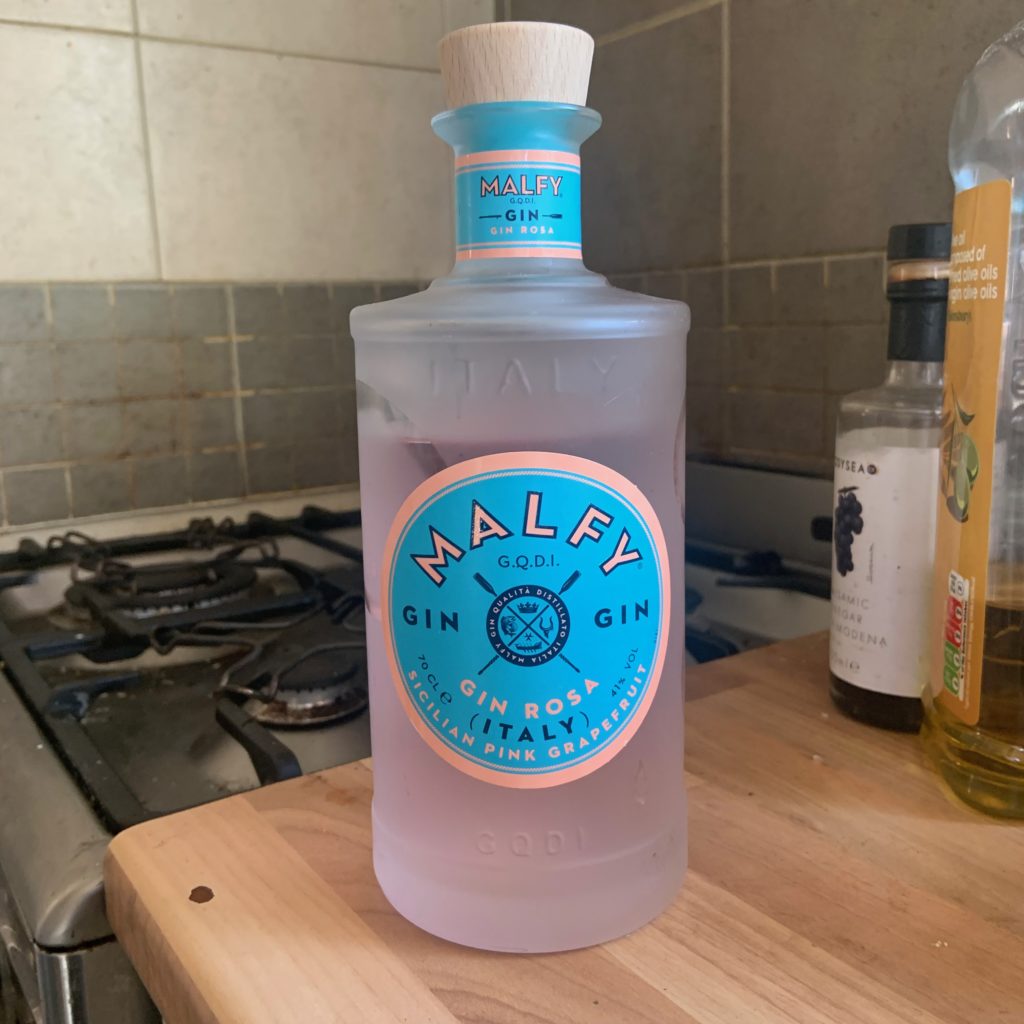 Having mixed this all up, I put everything in a small pan (I only had 8 kiwis so I wasn't making huge amounts) and cooked it until it went "jammy". I thought I'd overdone it as it was quite thick and sticky even when hot – but I think it actually turned out pretty well.
I poured boiling water into a couple of jam jars, let them sit for a few minutes, then poured it out, and put the jam in. Making in small quantities meant I wasn't really worried about the jars being completely sterile (which, to be honest, is the thing that I struggle with most when making jam!).
The end product was delicious – quite sweet, with the gooseberry qualities of the kiwi fruit coming through and the grapefruit gin just very faintly at the back of it.
I tried another batch this week but substituted the lemon juice with grapefruit juice (as we had a grapefruit in our delivery box) and left out the gin – the result was more "tart" than the original jam, and I missed the herbally/gin note that my first attempt had – so I think I'd definitely add the gin again next time – perhaps tweaking the amount of lemon.
If you haven't tried kiwi jam I'd highly recommend – it's really good!