I was rudely awakened by the postman knocking the door this morning – it brought me out of a lie in (8 o'clock!) with a start. A package for the kids from their grandma (my Mum) with some lovely keepsakes to remember their grandpa who died in January this year.
I managed to drag myself out of bed but after breakfast, coffee and some jam making I collapsed again and went back to sleep on the sofa. As a result I didn't get half the things done today I wanted to. I did manage to get our old baby bath out from the loft which I'm hoping we can turn into a wildlife pond. I also started to tackle the Leylandii hedge issue (they are several feet too tall) but after two hours I felt I hadn't made much progress (although I think I now have a method which should make the remaining work slightly easier (which is good as I have three or four times as much to do as I've already done).
The kids found out about Google Arts and Culture and other virtual tours online, and spent some time in the morning browsing round various museums and the Taj Mahal. Predictably, if slightly disappointingly, the virtual tour of the the Legoland Hotel seemed to spark more interest than the Taj Mahal 😀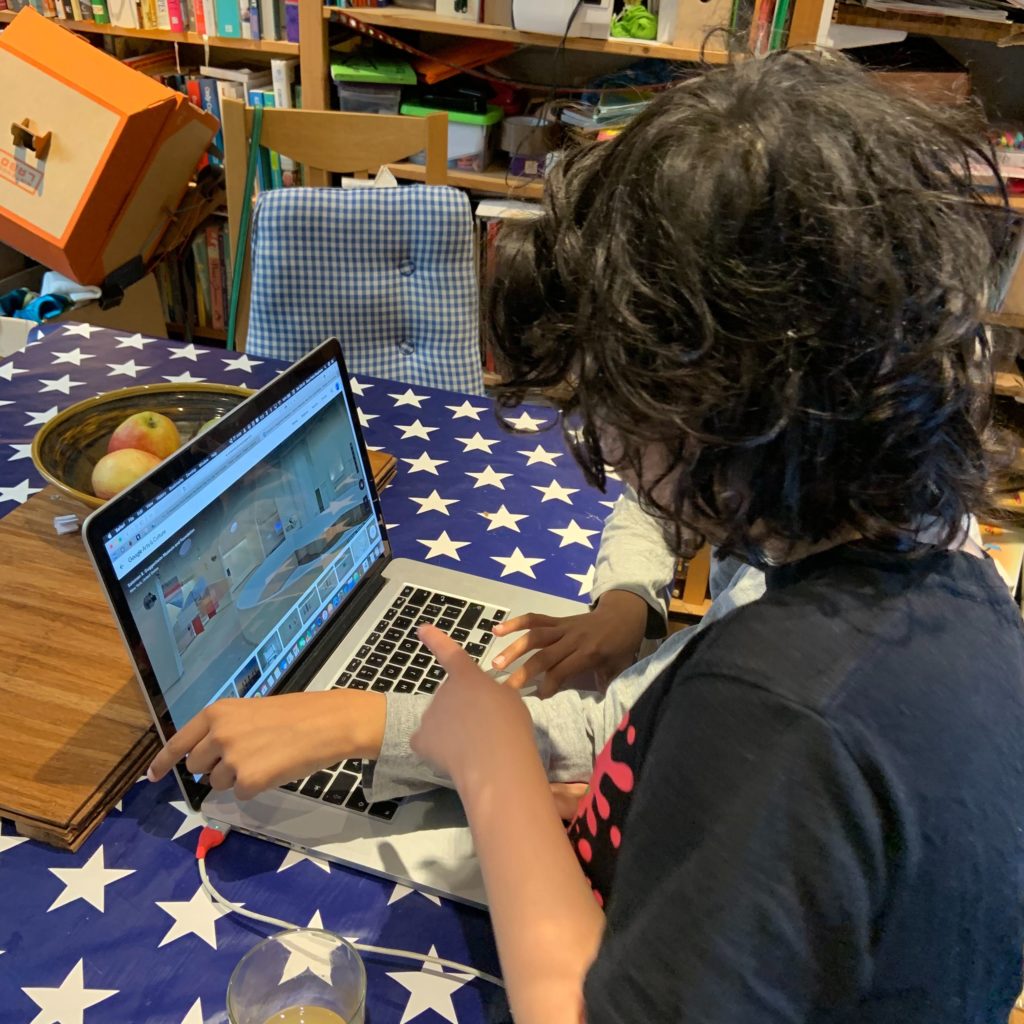 Having not really got going in the morning the afternoon seemed to race away from me, but I did manage to record my part for a virtual choir project I'm taking part in.
We'd all been looking forward to the Saturday evening quiz run by C from choir, and since this week was a David Bowie theme fancy dress F, D and B had been working at making Bowie masks and Bowie themed cupcakes with blue/red icing and lightning bolts.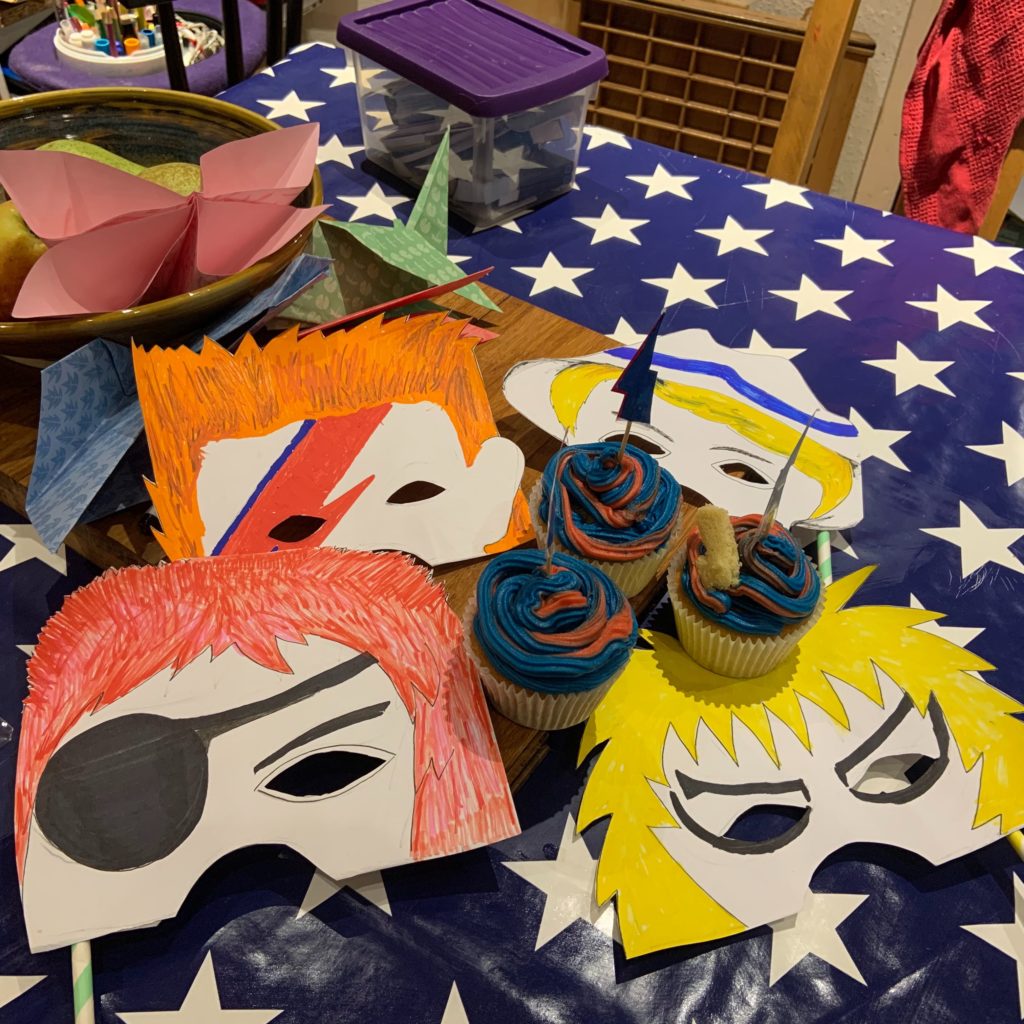 We thought the quiz was harder this week and were then amazed when our lucky guesses all came good making us winners for the week – to much excitement from the kids (and the adults).
The day was rounded out with the second part of the Gilmore & Roberts online gig including a request we'd made and a namecheck for B & F which they loved. Then D and I watched "Have I got News for You" – as with "The Mash Report" which we watched yesterday – it was very strange to see these topical news comedies/satires having to film in people's houses and especially in the former the lack of an audience to react to jokes and comments really showed and made the result a bit strange to watch (for me anyway). We then watched the final episode in Sky Arts "Portrait Artist of the Year" (where the winner is commissioned to do a portrait of a famous figure – in this case Nile Rodgers) which was weird in the other way of being a reflection of a time where people would just meet and get together and do stuff! It's strange how quickly we've started to see this kind of scene slightly jarring. Antiques Roadshow was another programme where we were watching and it felt strange to have all these people just crowding around each other!
Last achievement of the day – I finally managed to finish baking the focaccia I'd originally intended to have ready for lunch today – so that will be a nice treat for tomorrow.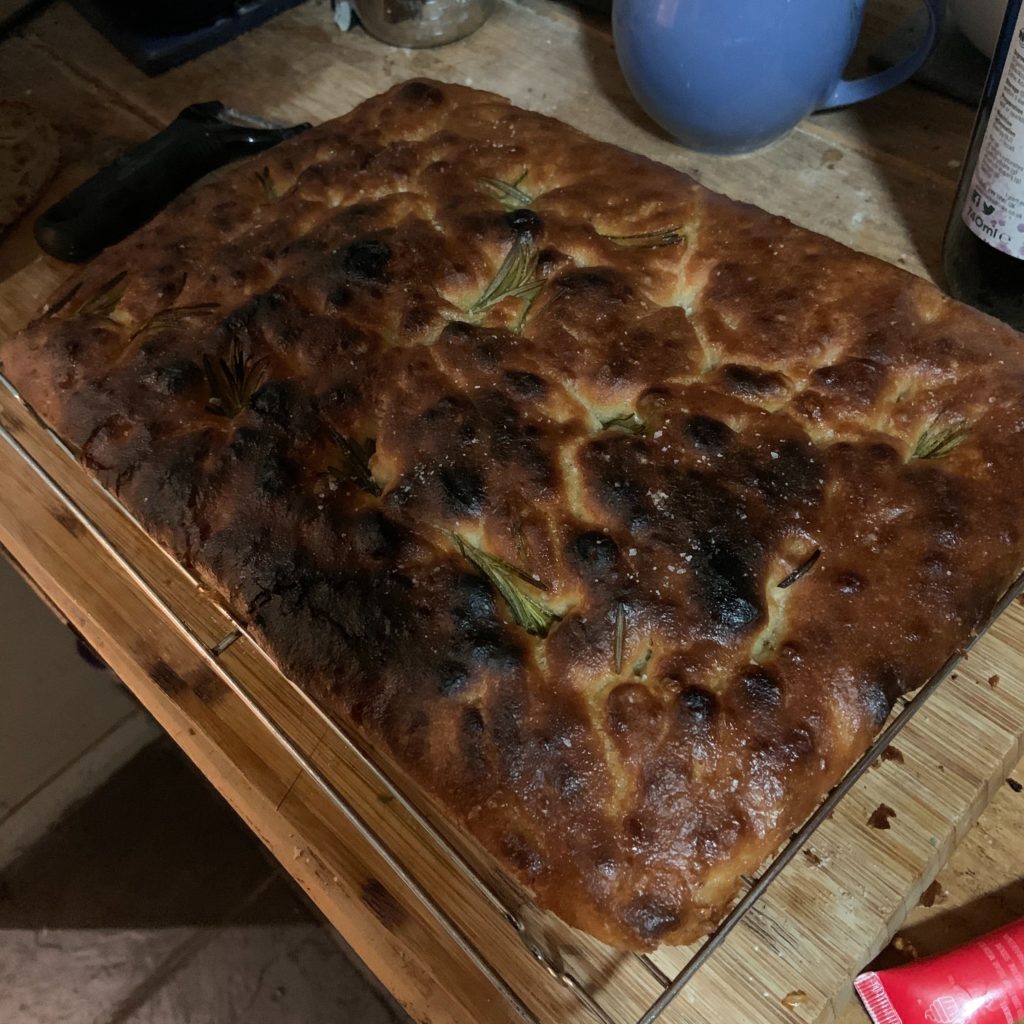 Sitting with D this evening I realised that we really haven't had much proper time together for weeks. During the day we're both working and trying to accommodate the kids, in the evening we're both tired. I think the best "quality time" we've had in the last three weeks is when we were both up early one morning and the kids were still asleep (or at least still in bed). Something to try and fix next week I think (love you D xxx).
Stay safe, stay strong.