Bit of an odd day. I'd meant to get up early again, but could not manage to wake up when my alarm went off and ended up getting up closer to 8am than 6 as I'd intended. I woke with a headache and a complete lack of energy.
I went to the supermarket in the morning, and despite a long queue outside the shelves inside were better stocked, and with more choice, than the last time I went just over a week ago. Sainsbury's had definitely tightened their protocols to ensure people kept a good distance apart but although it was still an odd experience it wasn't as stressful as when I went last time. I even managed to get some linguine which I hope will make a suitable substitute for spaghetti in Freya's requested birthday meal of spaghetti bolognese on Saturday.
When I got back from the supermarket, despite a restorative hot cross bun, I still felt completely shattered. I took my temperature just in case but it was normal, and then slept on the sofa for an hour before lunch. That definitely helped me recover a bit and I managed to work through the afternoon, but I wasn't really my usual self.
C from choir dropped round some games and gifts this afternoon which was so nice & thoughtful – can't wait to try the fig jam and D & the kids have already been having fun doing some "querkles" and playing giant Jenga.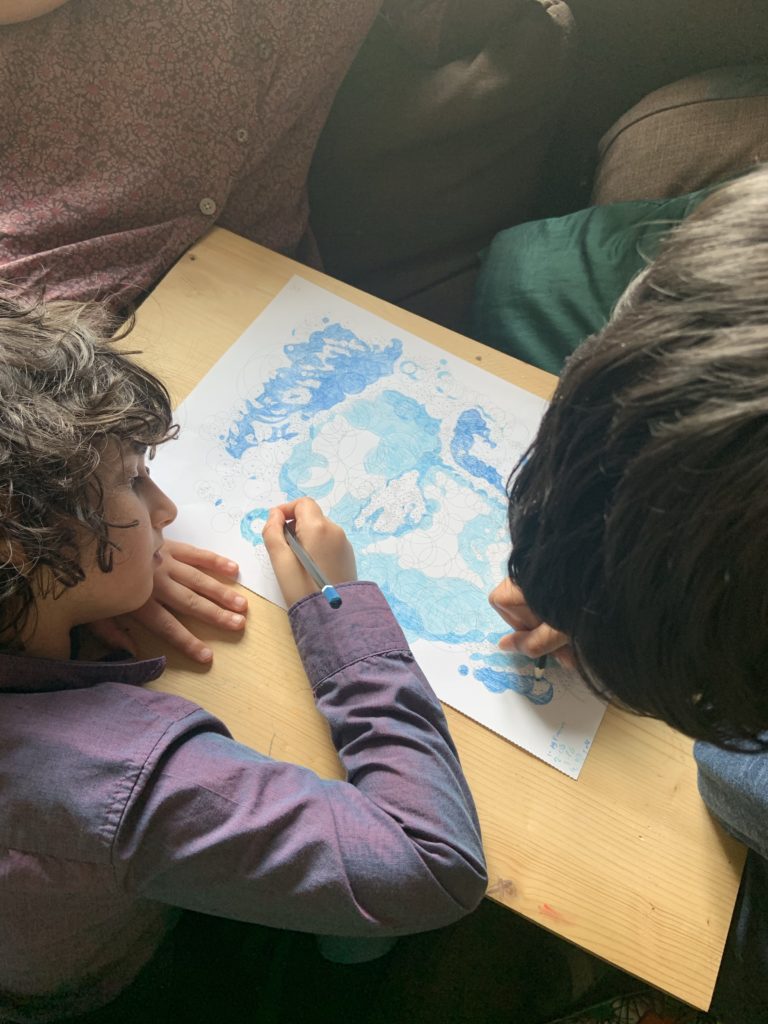 While I was working my mum had messaged D about a poem about libraries written by Ian Macmillan (who went to Wath Grammar school at the time Mum taught there). This inspired the kids to write their own poems about libraries – and record themselves reading them to share with Mum.
D cooked cauliflower cheese & sausages for tea (my favourite comfort meal) and after tea B and D watched "The Great British Menu" while F showed me a computer game she's been playing called "Tower of destiny" and even let me play a little 🙂
I was playing around with some more looping this evening, but not at all happy with the results – I think I might need to look at a different song. In the meantime D was working on carving a woodblock for printing and being a lot more successful than me.
The day has ended with some TV and chocolate, slouched on the sofa with D. I'm still not really feeling myself, and slightly stressed about work that I've not done, but also happy it's now the long Easter weekend.
Stay safe, stay strong.