Woke a little earlier this morning, but not much. Found it difficult to get going for work today and hadn't really achieved much by 10am (D points out that this is normal because Wednesday is such a busy work day for me I tend to find Thursday a struggle).
I did manage to move myself to work at the kitchen/dining table today which F seemed to really appreciate. She did some great work this morning – she is always amazing me with how she uses words in her writing – she just seems to have a natural flair for the poetic both in terms of imagery and in rhetorical devices like repetition and alliteration.
B got on with his work quite happily again and seems to be OK and not overly stressed about work right now which is good. I think the school and teachers are starting to adjust to how they need to set work and how they can do so in such a way that supports the children having a regular timetable of lessons like they would at school.
Both B & F had virtual music lessons as well today – B on piano & F on drums. Bs lesson seemed to go well, although he really needs to practice more – but he knows this and suggested after the lesson that if we feel he needs a break from the screen at any point we should tell him to go and do some piano practice (not sure he'll actually do this but it shows willing and awareness!)
We've been holding back on getting F going with these lessons because she'd seemed to find some of the online lessons & activities difficult to deal with. However, we talked to her earlier in the week to see if she'd be up for these lessons and she was keen. As it turned out – she did find it quite difficult and got quite upset during the lesson – but she kept going with a bit of help, and got through the lesson in the end. She can get very upset with herself when she feels she's making mistakes but she never lets that get the better of her or show in a face-to-face situation – but with the online lessons somehow her usual coping mechanisms or defences just don't seem to kick in. Ultimately if she can push through it maybe this will be something that turns into a strength – but it's hard to see her get so upset when she is doing so well and really doesn't need to.
Heard from L in Chicago that their lockdown has been extended to at least the end of May now – and I have to admit I can't see it being any different here – and suspect that's how it has to be if we are going to keep the situation under some level of control. It's also very sobering to hear about the need for social distancing to be in place for a long time even after the lockdown measures are relaxed – it's going to be a very strange world for some time yet.
On a more positive note, another lovely day outside, and a slower work-day meant I got to have lunch outside with everyone – which was very nice. Later in the day F and I played out in the garden with a Star Wars beach-ball – until it got a huge hole in the side. I cooked the kids their favourite spaghetti bolognese for tea and F wanted to eat in the garden, but we haven't really got anywhere set up for this (I'd originally wanted to put some decking at the back of the house but I never managed to get to it – perhaps it should go on the projects list!)
Cutting the hedge back has either encouraged the birds in the garden or just made it easier to see them, and we've all been watching them fly around the garden, collecting material for nests, as well as offer educational opportunities for the kids as they demonstrate the "birds" bit of "the birds and the bees" outside the kitchen window!
I tried to organise the new plants in the pond today – but at the moment it just looks like a really muddy puddle. I hope that the mud will settle and it will look a bit more attractive as the plants establish themselves. D is really the gardener in the house and thanks to her we've got some lovely flowers coming now.
Finally got some lovely looking bags of coffee beans from E and family as a late birthday present – can't wait to try them!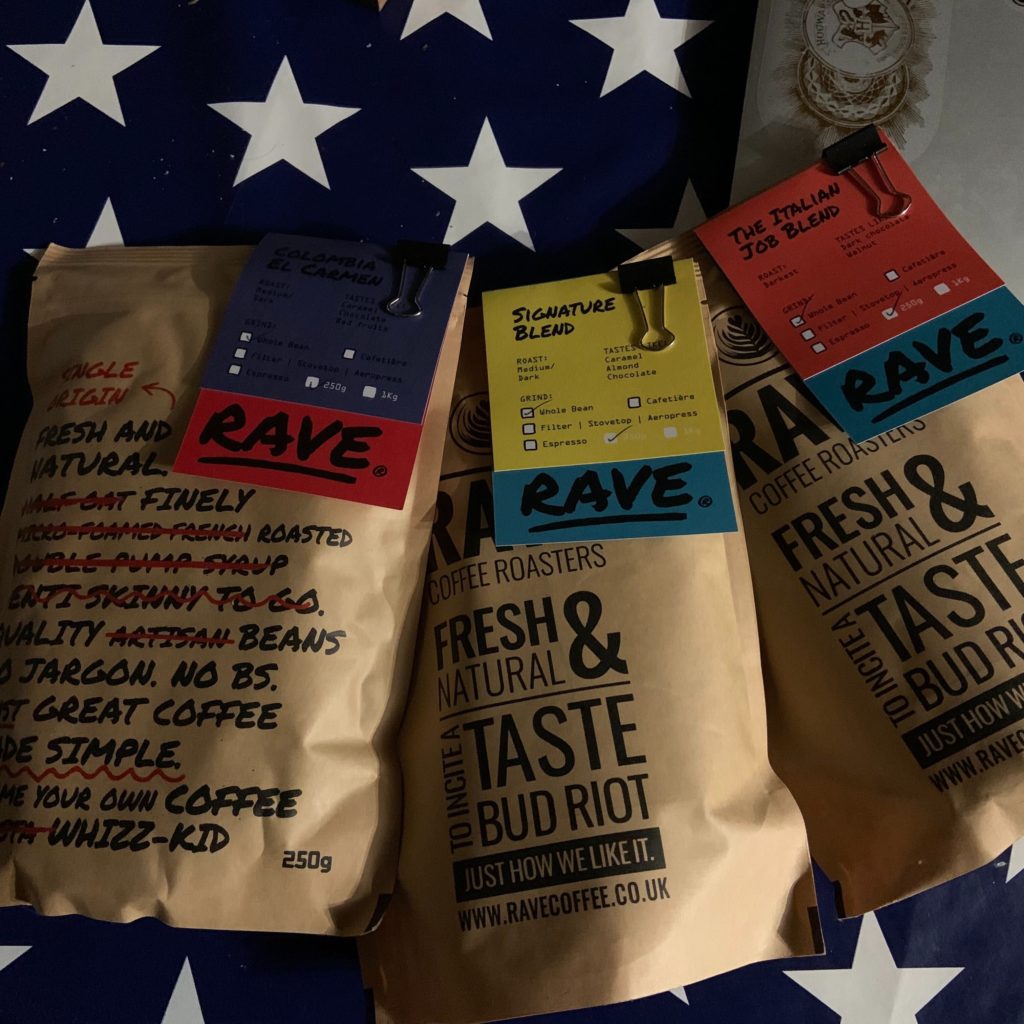 Stay safe, stay caffeinated, stay strong.