I slept in a bit this morning, and didn't get up until around 9:30. As she so often does, D brought me a very welcome cup of tea just as I was waking up.
Today was Easter Sunday, which for us means Easter eggs rather than anything else. Unfortunately I'd left some of the eggs (including a fancy tear-drop shaped one for D) in the car boot thinking they'd be safe there and easier than hiding them in the house – but the hot weather meant that some of them had taken on a distinctly non-ovoid shape. As well as chocolate, D had put together a bag of treats for the kids including books (natch) and some cross-stitch kits.
D hid some small eggs around the house for the kids to find, and F had written a set of clues that B and I had to follow to find more eggs + clues which eventually led us to some birds for us to colour in.
D gave me a box of small chocolate eggs from Tony's Chocolonely (are current favourite chocolate) which are yummy although I may take issue with the label that describes them as "great big chocolate eggs"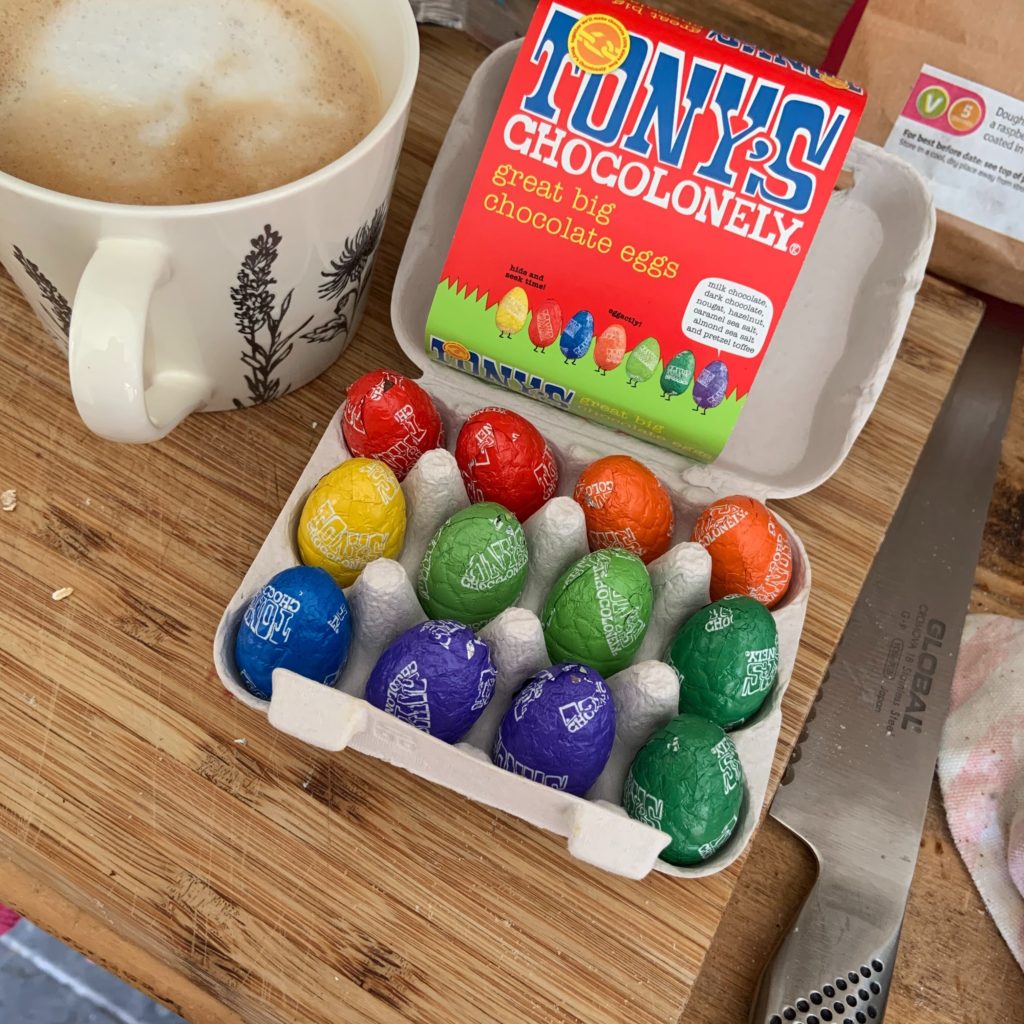 After the chocolate was out of the way, F wanted to work on her website a bit more and setup and wrote a page linking to Bs, Ds and my websites. Later in the day she started doing a music looping project.
It was obviously a "be creative on computers" day as B spent quite a bit of time building a 3D model of a human figure in Blender with the aim of using it in a computer game he wants to build using Unity.
F also got creative with the garden Jenga set that C dropped round a few days ago.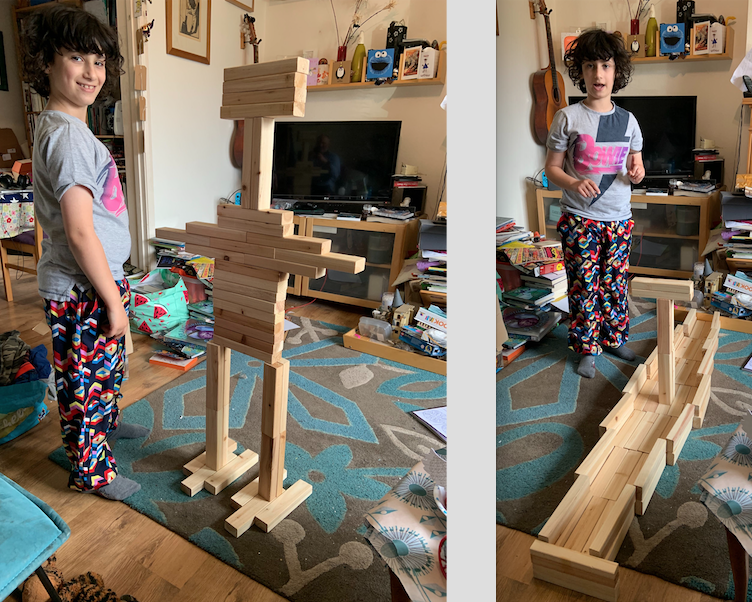 Meanwhile I tackled the last of the hedge and I think I've now done everything I can do without going round into the neighbours' garden – which for obvious reasons will have to wait.
I made some ribs in sticky sauce for tea (some passata, soy sauce, ketchup and brown sugar all mixed together, poured over the ribs, and then cooked on 140-160℃ for 2-3 hours), while D made chips. After tea and some TV the kids video called with their US cousins, then stories before bed.
Overall a quiet day without any drama and one in which a tweet reminded me of how much I love 69 Love Songs by The Magnetic Fields.
Stay safe, stay strong.