Feeling: Wet
Listening to: Nothing today
Watching: Fort Salem
We went to the National Botanic Garden of Wales today. It felt a lot less organised than the National Trust properties we've visited over the last few weeks – with quite a big queue to get in (there were no booked time slots so no way to control when people turned up.) F wasn't too pleased when we asked her not to climb the trees in the car park as we waited to get in, and that set her mood for the next hour.
Once we were in the garden, it wasn't busy, and we wandered through a wooded area and then to the arboretum – but at that point it started to rain so we decided to head to the great Glasshouse which is at the centre of the gardens – and enjoyed walking around there until it was time for lunch.
At that point, the skies opened. Luckily while I queued for the toilet (another place where I felt the organisation could have been better), D and the kids found a table under some shelter where we could eat our picnic. It really tipped it down, plus lightning and thunder moving around us – very dramatic and F found it a bit scary.
At this point we were pretty damp, and our spirits were a bit low (although slightly buoyed by tea and hot chocolate) – so we headed to the exit via the walled garden. Happily the rain eased just as we got into the walled garden which was beautiful, and we were able to spend some time looking around and actually enjoying the plants and flowers
We headed home via Tesco to pick up some bits and pieces we'd realised we needed – lack of face masks very noticeable again 🙁 .
By the time we got back to the cottage it had stopped raining, and we were able to have dinner outside and cook homemade lamb burgers on the gas barbecue. The burgers were made with rosemary we'd liberated from the "Pottager Garden" earlier in the day) and with some black pudding chopped into the lamb mince. I'd made some bread dough before we went out for the day (despite the lack of scales or any kind of measuring jug in the kitchen), and so we had the burgers in homemade buns with sautéd potatoes and salad – really good.
In the evening D and I tried to resurrect very rusty cue skills on the pool table in the cottage.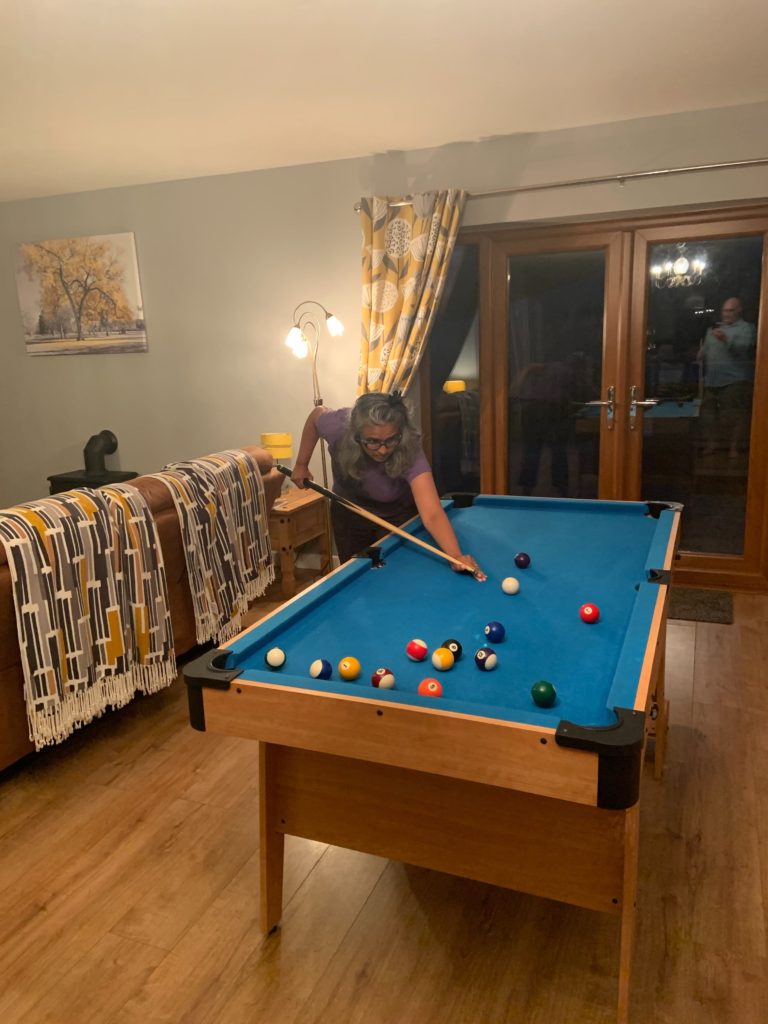 So despite a wet day feeling pretty satisfied this evening. Tomorrow we are hoping for slightly drier weather and planning to tackle another waterfall walk.
Stay safe, stay strong