Feeling: Up and down
Listening to: Nothing today
Watching: Strike
Up late today (around 10am). I'd decided to try a pulled-pork recipe today which cooks for 5 hours (ended up being more like 6 hours, and I even think it could have done with longer to really get to the "falling apart" level) – so getting that in the oven was the first thing which meant I didn't get breakfast until about 11am.
I was feeling a bit better today (although I hit a wall in the middle of the afternoon and got tired and grouchy). Unfortunately D wasn't feeling so good today and spent a lot of it curled up on the sofa reading.
After I'd had breakfast and had coffee while watching F do a self-designed obstacle course in the garden (a result of watching too much Ultimate Beast Master), I started off some dough for some brioche buns – I wanted to try a different recipe to the brioche I made in May and I thought I might as well try the one recommended alongside the pulled-pork recipe. I had some misgivings about the recipe (who measures butter in tablespoons?) and I struggled with the recipe a bit – despite 20 minutes kneading I didn't manage to get the dough to the kind of consistency I'd expect. However, despite this (and it contributing to my grouchiness in the afternoon) the results were OK.
The final part part of the dish was a barbecue sauce made with the juices from the pork. I half (or even quarter) followed another BBC Good Food recipe but mainly did it by taste and ended up with a couple of jars of tasty BBQ sauce.
The end result was a success – F, B and I all enjoyed the pork & BBQ sauce and we all enjoyed the brioche buns (D had her's with veggie sausages)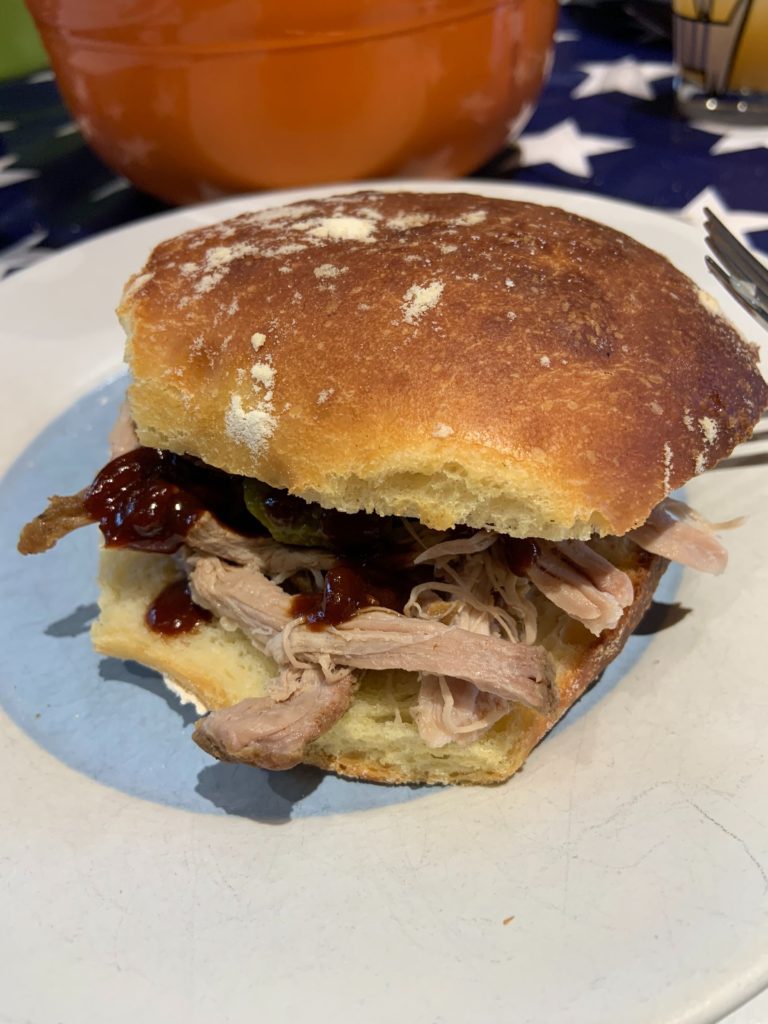 Stay safe, stay strong