Woke late this morning – about ten to 10 – D had been up for a while and was just about to tell me to wake up anyway. The dressing on F's finger had come off overnight, so I had to clean and dress the wound – which seems to be healing very well – I think it will be healed quicker than the two weeks the nurse estimated.
By the time we were all up & breakfasted it was gone 11. D had suggested we walk to Warwick, so we decided we'd do that and get some lunch from a coffee shop and find somewhere to eat outside. Buying lunch in a coffee shop which was previously a regular weekend occurrence now seems like the height of decadence and a huge treat!
The walk went OK although we had a bit of upset when F said "my coat's a bugger to do up" and both D and I (very gently, and not at all trying to make her feel she'd done anything wrong) said probably not the phrase to use in the park. Unfortunately what we saw as very mild request F saw as a real rebuke (and probably hypocritical as it's exactly the sort of thing I'd say) and got quite upset and started to walk back home without us. D eventually managed to catch up with her and calm her down, and we made peace.
We got to Warwick ready for lunch, and B suggested we went to Jack's Shack – we'd never been there before but B noticed it as we walked past, and I've seen video's from them on Facebook during the lockdown which had made me intrigued to try them. They were lovely, and had a little "garden" out the back which was empty when we got there – so we had the whole area to ourselves for most of our lunch. Definitely recommended for sandwiches, cakes, shakes and coffee.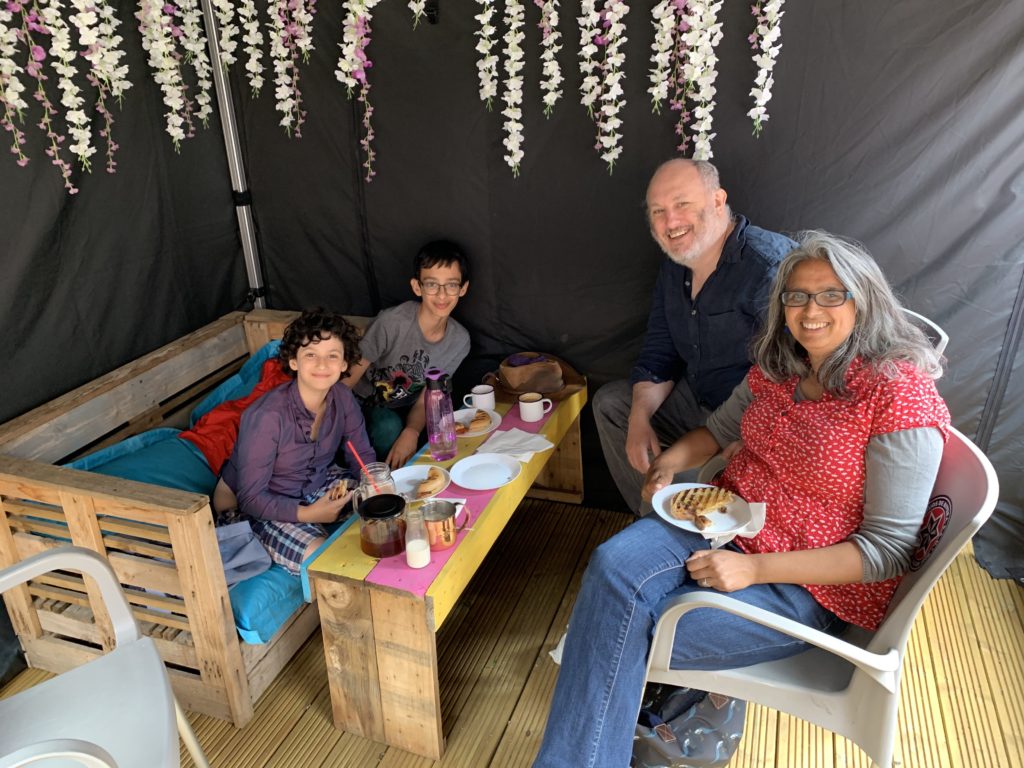 After lunch we went on into town and got tea from the Golden Monkey (thank goodness – we've been on tea bags for the last few days and its been a bit desperate). We also popped into Warwick Books and picked up a pile of books – F was especially pleased with two poetry books she picked out and later she enjoyed reading them allowed to my Mum over FaceTime.
We walked home (with a bit of moaning from F who was tired by this point – I carried her for a bit) and talked to my Mum, before tea (left-overs from yesterday's takeaway) and TV and eventually bed.
It's been a very nice day but for some reason I've felt a little restless in mind and spirit this evening – I expect it will pass. Hope that the weather stays fine tomorrow so we can get out in the garden. I've promised F pancakes for breakfast tomorrow …
Stay safe, stay strong