Feeling: Tired but not stressed
Listening to: Nothing today
Watching: Courier
Woke up around 9am but still feeling completely exhausted – which left me quite grumpy for most of the morning. I think the decking project was also stressing me out a bit – despite making a good start last weekend.
I decided to try an origami project to distract me, and while it isn't perfect I'm pretty pleased with the dragon I made following a YouTube tutorial by Jo Nakashima.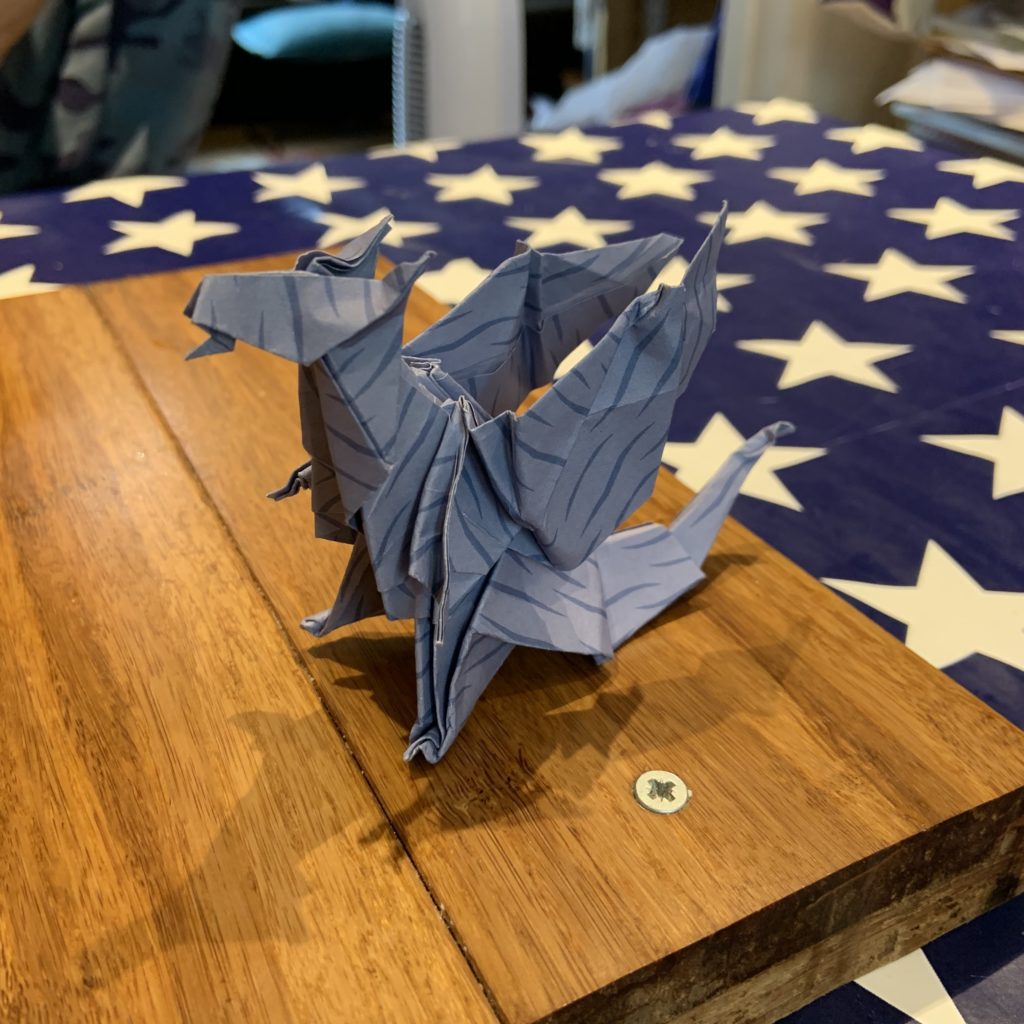 After I'd done that, and asked D to check the weather forecast, I'd run out of reasons not to get on with the decking, so I asked B to come and help me and we got the tarpaulin off and continued to work on the frame.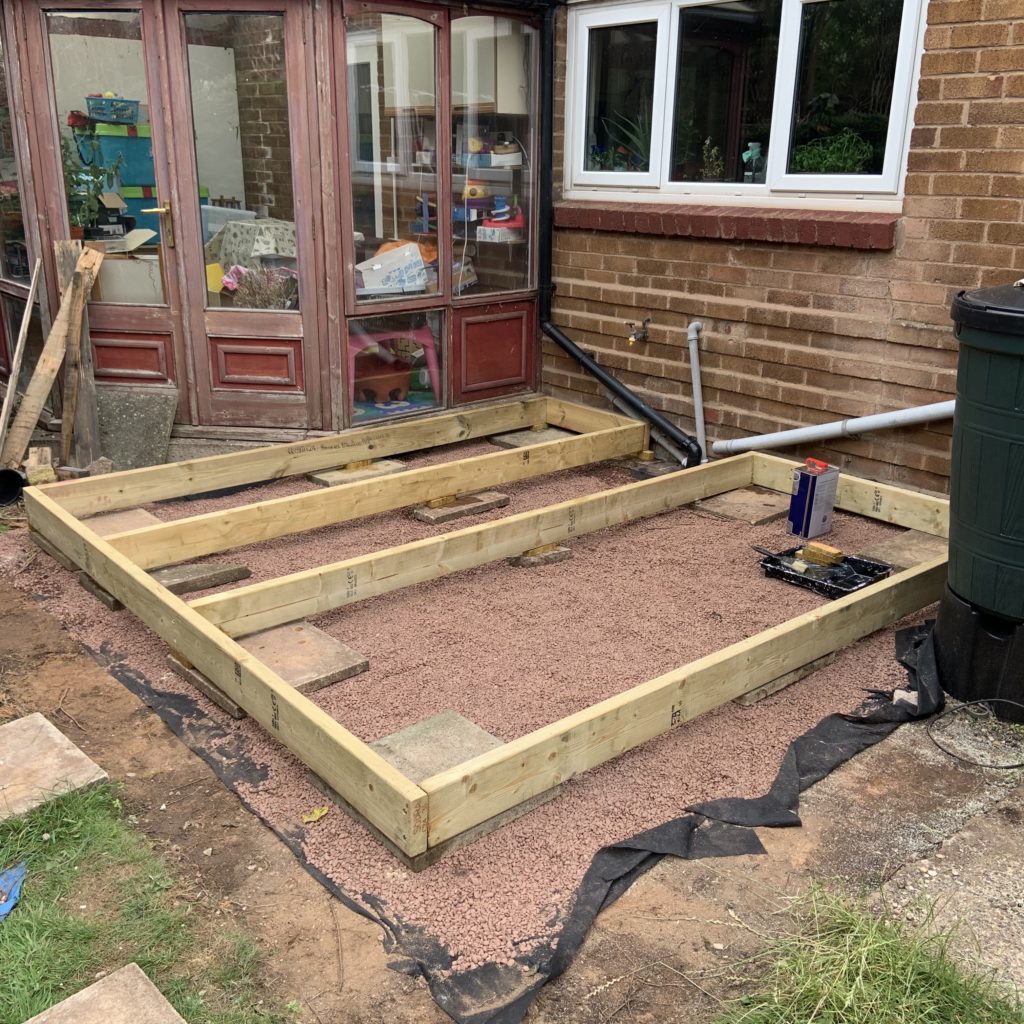 We spent quite while trying to get the basic frame level in one direction while sloping in the other (so water runs off the finished deck) which means we spent a long time working on it without so much obvious progress. However, by the end of the day, we had got all the joists in the frame.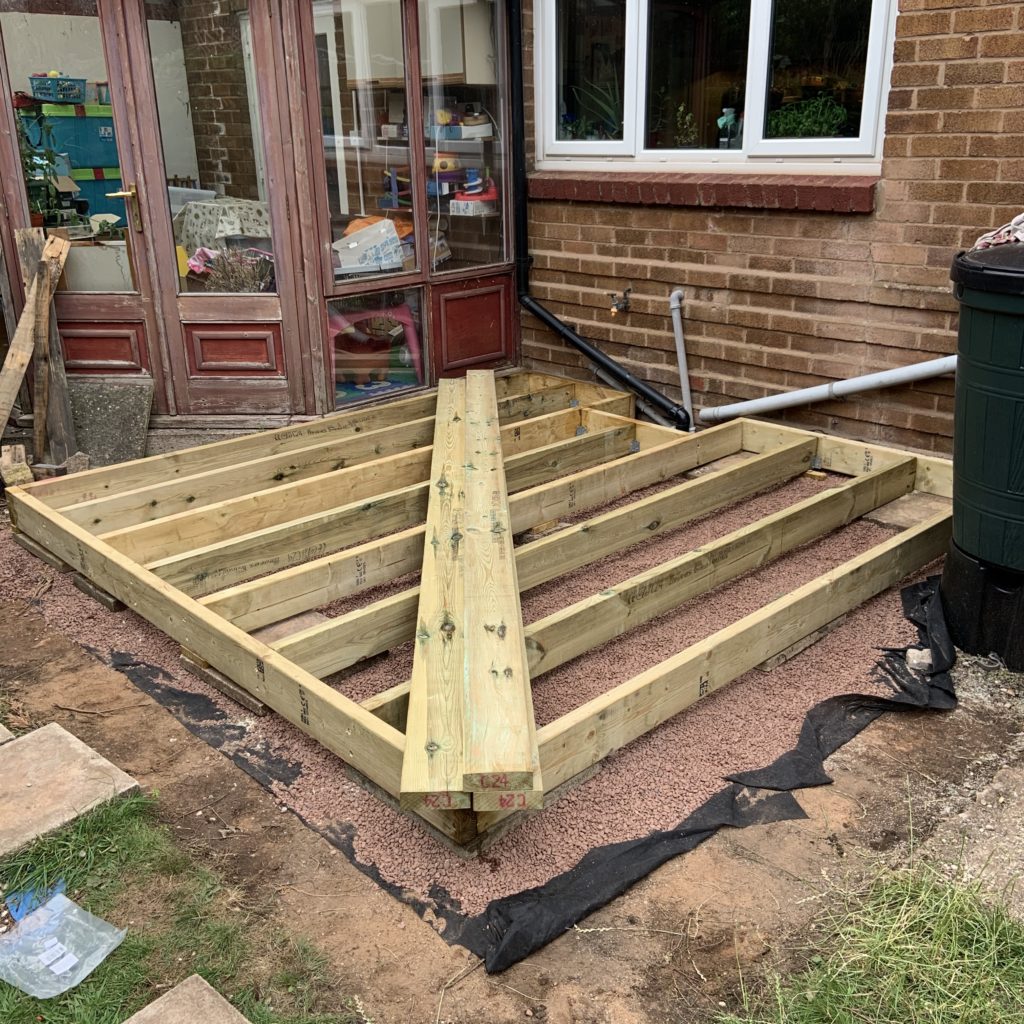 The plan for tomorrow (assuming it stays reasonably dry) is to put in the "noggings" which are short pieces of wood that run between the joists to add support – we'll need to fit 14 I think so quite a lot of cutting and fixing tomorrow. I don't know if we'll get to the actual decking boards tomorrow – I hope we might at least make a start.
B was a complete star working with me on this – he stuck with it the whole afternoon and really helped me – it was great to work on the project together.
Meanwhile D was doing an amazing job tidying upstairs in the house and getting lunch and tea ready as well as finding time to bake a cake and finish her book – quite amazing.
F was a bit bored I think. Unfortunately I wasn't really up to having her help me as well as B (having one of the helping is great, having two helping tends to be stressful). F did come outside a few times (she had no interest in helping D tidy up) but spent a couple of hours in the afternoon watching Harry Potter and the Deathly Hallows Part 1 – she's currently on a bit of a HP kick having just listened to the Philosopher's Stone as an audiobook while also reading the Half-blood Prince.
We finished the day with C's quiz. It might be the last of these as life returns to a more normal pace. C has offered to keep going if people are interested, and I think a few people are – but even in the last few weeks there have been more people missing the Saturday evening as they have other committments and from today people may start spending Saturday evening in the pub again! We've really enjoyed the quizzes and very grateful to C for hosting them each week.
Watched a really crappy film with D this evening (trying to be Die Hard in a London multi-storey carpark!) but now feeling tired but pretty happy with what we've got done today and much more relaxed than when I woke up this morning.
Stay safe, stay strong.