Sainsbury delivery this morning – the days of struggling to get a delivery slot or getting basics like flour delivered seem to be a thing of the past – although oddly haven't been able to get any Oyster Sauce from Sainsbury's for the last two weeks (which is the secret ingredient in my bolognese recipe).
I got grumpy with D when I found she'd thrown out kiwis that I had mentally promised myself I was going to make into jam – I think the grumpiness really stemmed from the fact that I immediately felt guilty that I hadn't actually got around to said jam making. In a fit of pique I rescued them from the food waste and made them into jam immediately – although I'm not entirely sure I want to eat it now!
I also (after quite a long break) made bread this morning which was a much more successful affair. Two loaves made with white spelt flour, which crackled nicely when they came out of the oven.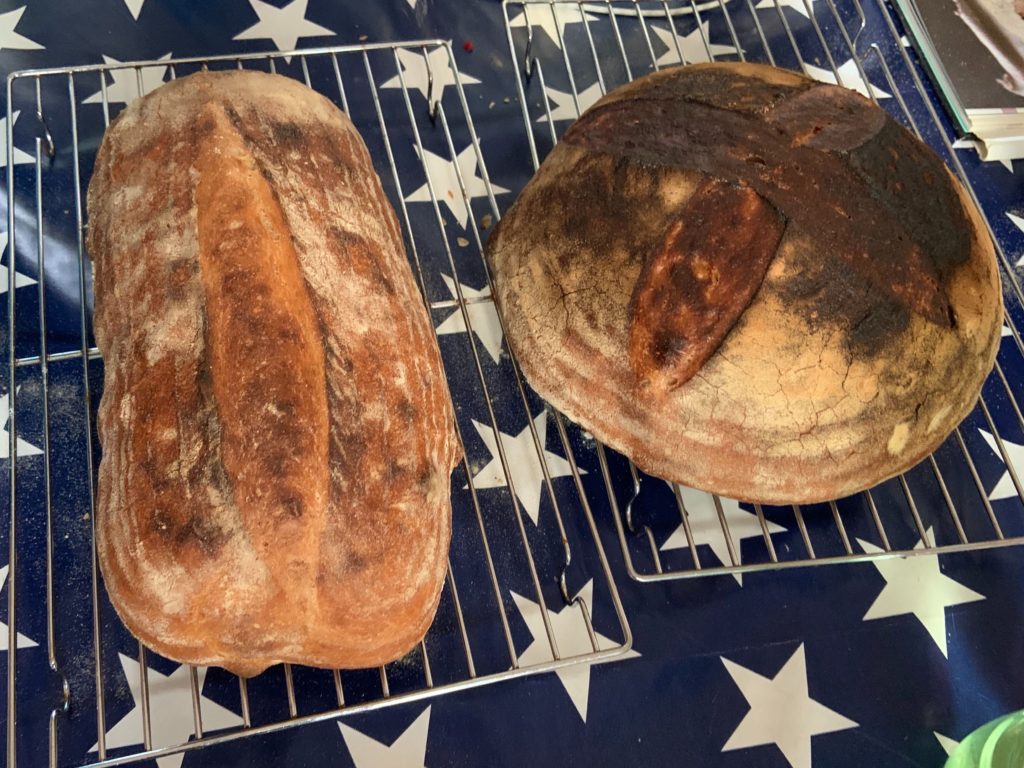 We had lunch outside on the deck again (tuna melt bagels which has turned into a Wednesday lunch staple for some reason over the last few weeks).
I spent the afternoon on work calls, and then in the evening was one of the "special guests" at our last "virtual choir" session (for the moment at least). It was great fun and nice to be able to chat with Seb (our choir leader/conductor/MD) and Rosie (chair) on the call – and then to others afterwards at our "virtual pub" which we have on Zoom. Whether we will be able to rehearse in person in the autumn, and if so with what restrictions, we don't know – but we do know that as soon as we can safely sing together we will do so.
Stay safe, stay strong